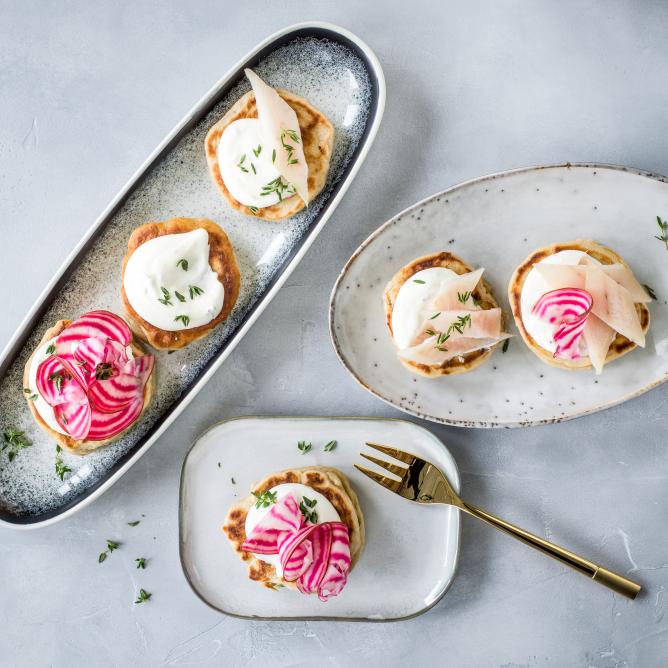 Buckwheat blinis with champagne cream cheese
Nutrition facts per serving:
Energy in kcal

about 178

Fat

about 11g

Carbohydrates

about 14g

Protein

about 6g
This is needed
This is needed
for 12 piece
Champagne cream cheese
200 g double cream cheese (e.g. Philadelphia)
3 tbsp sparkling wine (e.g. champagne)
1 tbsp thyme, finely chopped
a little pepper
Batter
80 g white flour
120 g buckwheat flour
0.5 tsp salt
0.25 tsp sugar
1 tsp dry yeast
4 tbsp crème fraîche
1 dl milk
1 fresh egg yolk
1 tbsp butter, melted, left to cool a little
1 fresh egg whites
1 pinch salt
Topping
1 tbsp thyme
a little sea salt
50 g smoked perch fillets (or smoked salmon), cut into pieces
1 chioggia beets (approx. 160 g), thinly sliced
View these products
And that's how it's done
And that's how it's done
Champagne cream cheese
Combine the cream cheese and sparkling wine using the whisk on a hand mixer, mix in the thyme and pepper, chill.
Batter
Mix the flour, salt, sugar and dried yeast in a bowl. Add the milk and all the other ingredients up to and including the butter, mix well with a wooden spoon. Cover the batter and leave to stand for approx. 1 hr. Beat the egg white with the salt until stiff, carefully fold into the batter. Preheat the oven to 60 °C and warm a plate.
Blinis
Heat a little clarified butter in a non-stick frying pan, reduce the heat. Cook the blinis in batches, using approx. 1½ tbsp of batter per blini (approx. 5 cm in diameter), fry for approx. 3 mins. on each side, keep warm.
Topping
Spread the champagne cream cheese on top of the blinis, add the beetroot or fish, garnish with thyme. Season the beetroot blinis with salt.