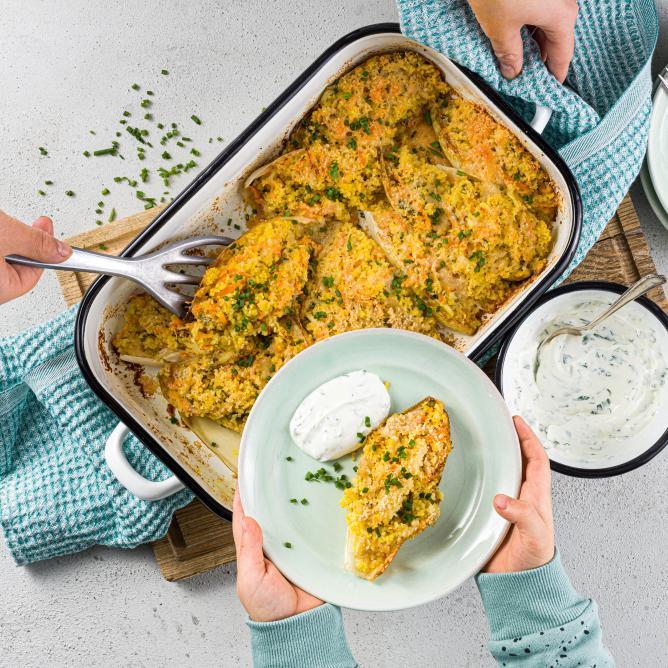 Nutrition facts per serving:
Energy in kcal

about 331

Fat

about 13g

Carbohydrates

about 37g

Protein

about 14g
This is needed
This is needed
for 4 people
Chicory
a little butter
2 white chicory
Couscous
3 spring onion
2 carrots
1 tbsp olive oil
3.5 dl water
1 tsp mild curry powder
1.25 tsp salt
150 g couscous
Chicory
80 g grated Parmesan
2 tbsp breadcrumbs
20 g butter
Tools
Apron, Bowl, Brush , Fork, Gratin dish, Measuring cup, Oven mitts, Pan, Paring knife, Rösti grater, Scissors, Spatula, Tablespoon, Teaspoon, Timer, Cutting board, Kitchen scales
View these products
And that's how it's done
And that's how it's done
Chicory
Gratin dish (approx. 2 l) greased with butter. Remove the chicory leaves, place approx. 12 large leaves side by side in the gratin dish. Cut the remainder of the chicory into thin strips and set aside.
Couscous
Cut the spring onions into thin rings. Roughly grate the carrot. Heat the oil in a pan. Add the onions and sauté for approx. 5 mins. Add the carrot and reserved chicory strips, cook briefly. Pour in the water, bring to the boil. Place the couscous, curry and salt in a bowl, mix together. Pour the carrot water over the top, cover and leave to absorb for approx. 5 mins. Separate the couscous with a fork.
Chicory
Stuff the chicory leaves with the couscous, mix the cheese and breadcrumbs, sprinkle on top. Place the knobs of butter on top of the chicory. Cover the dish with foil.
To bake
Approx. 15 mins. in the upper half of an oven preheated to 200°C. Remove the foil and cook for a further 10 mins.
To serve
Finely chop the chives using scissors, sprinkle on top of the boats.