Asparagus hot dogs with hazelnut mayonnaise and culatello di zibello vinaigrette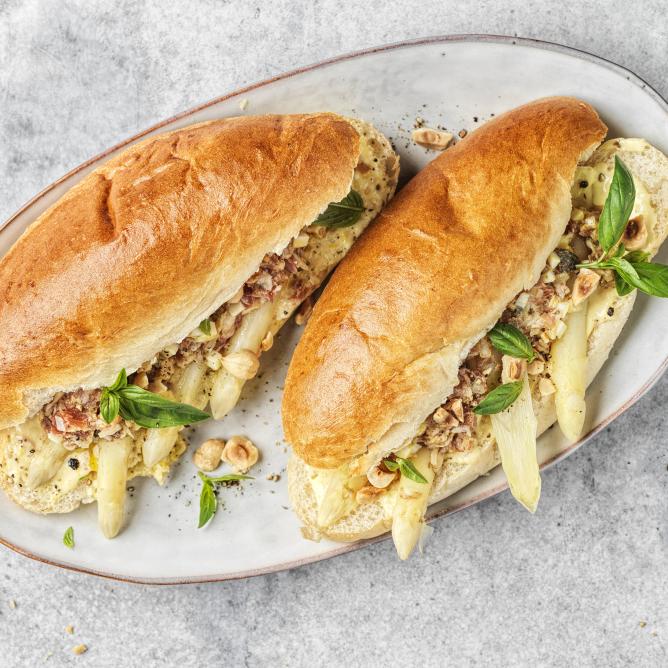 Asparagus hot dogs with hazelnut mayonnaise and culatello di zibello vinaigrette
Nutrition facts per serving:
Energy in kcal

about 473

Fat

about 30g

Carbohydrates

about 37g

Protein

about 13g
This is needed
This is needed
for 8 piece
Hazelnut mayonnaise
1 fresh egg yolk
1 tsp Dijon mustard
1 tbsp crème fraîche
0.5 organic lemon, grated zest and the juice
salt and pepper to taste
1 dl hazelnut oil
Culatello vinaigrette
85 g Culatello, finely chopped
6 tbsp olive oil with basil
0.25 tsp sugar
1 shallot, finely chopped
3 caper berries, finely chopped, 3 tbsp of vinegar from the jar
1 tbsp chives, finely chopped
1 hard-boiled egg, finely chopped
salt and pepper to taste
Hot dogs
8 white asparagus, peeled, cut in half
salted water, boiling
3 sprigs basil, torn into pieces
8 bread rolls (e.g. hot dog rolls or sandwich rolls)
2 tbsp hazelnuts, coarsely chopped
View these products
And that's how it's done
And that's how it's done
Hazelnut mayonnaise
Place the egg yolk, mustard and lemon zest in a bowl, beat using the whisk on a mixer. Add the oil drop by drop to begin with, then more gradually, stirring constantly to form a thick mayonnaise. Stir in the crème fraîche and lemon juice, season.
Culatello vinaigrette
Mix the ham and oil in a bowl with a fork and crush gently. Add the egg, caper berries, vinegar, shallot, chives and sugar, mix and season.
Hot dogs
Place the asparagus in the boiling salted water, return to the boil. Remove the pan from the heat, cover and leave to infuse for approx. 20 mins. Remove the asparagus, drain. Cover the cut surfaces of the bread rolls with the mayonnaise, add the asparagus, top with the vinaigrette. Garnish with nuts and basil.