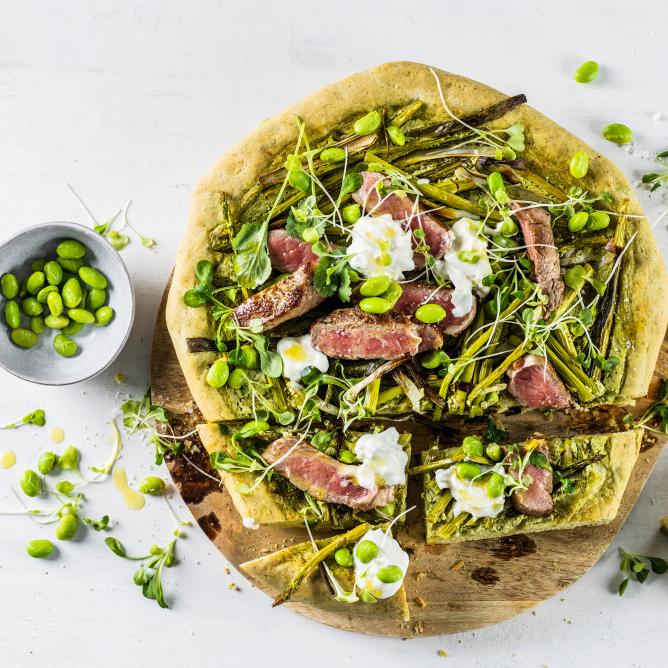 Spring flatbread with beef
Nutrition facts per serving:
Energy in kcal

about 819

Fat

about 44g

Carbohydrates

about 68g

Protein

about 35g
This is needed
This is needed
for 4 people
Green pizza dough
350 g half-white flour
0.25 cube yeast (approx. 10 g), crumbled
0.75 tsp salt
0.25 tsp sugar
3 tbsp oil
1 bunch coriander
2 dl water
Topping
0.5 bunch coriander, roughly chopped
200 g sour single cream
250 g thin green asparagus
2 spring onion incl. green part, halved, cut lengthwise into thin strips
Spring topping
1 tbsp olive oil for frying
250 g rib eye steak
0.25 tsp Oriental spice mix (e.g. Smokey Beef)
100 g edamame, beans removed from the pods
0.5 bunch coriander,
30 g Micro Greens
150 g burrata, torn into pieces
2 pinches salt
2 tbsp lemon juice
0.25 tsp salt
2 tbsp olive oil
View these products
And that's how it's done
And that's how it's done
Green pizza dough
Mix the flour, salt, sugar and yeast in a bowl, puree the coriander with the oil and water, pour into the bowl, mix, knead to form a smooth dough. Cover and leave to rise at room temperature for approx. 1½ hrs. until doubled in size.
Topping
Flatten the dough a little, roll out (approx. 30 cm in diameter) on a lightly floured surface, place on a sheet of baking paper. Puree the coriander with the sour single cream, spread over the dough base, leaving a border of approx. 2 cm all the way around. Top with the asparagus and spring onions.
To bake
Heat the tray in an oven preheated to 240°C. Remove from the oven, slide the flatbread onto the tray, bake for approx. 25 mins. on the bottom shelf of the oven.
Spring topping
Heat the oil in a frying pan. Season the rib eye steak, fry for approx. 2 mins. on each side, remove, leave to rest for approx. 5 mins., carve into slices. Mix the edamame beans, micro greens and coriander, season with salt, spread on top of the flatbread along with the meat. Top with the burrata. Whisk together the oil and lemon juice, season with salt, drizzle over the top.