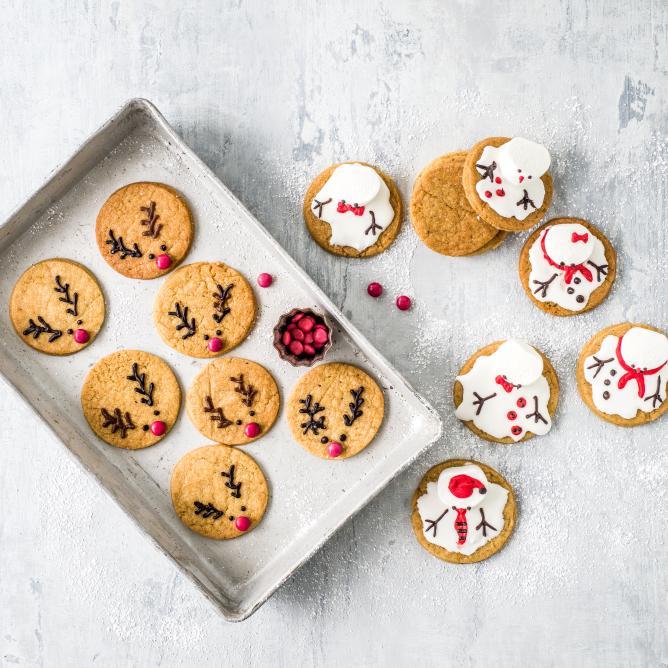 Nutrition facts per serving:
Energy in kcal

about 83

Fat

about 4g

Carbohydrates

about 13g

Protein

about 1g
This is needed
This is needed
for 50 piece
Dry ingredients
400 g white flour
1 parcel sodium bicarbonate (approx. 5 g)
0.25 tsp salt
0.5 tsp cinnamon
0.25 tsp ground cloves
a little allspice
Mixture
200 g butter
150 g ground cane sugar
1.5 dl maple syrup
2 tsp ginger, finely grated
1 organic orange, use only a little grated zest
Reindeer
icing for writing (brown)
Smarties (only red ones)
Snowmen
1 fresh egg whites
100 g icing sugar
icing for writing (red and brown)
20 marshmallows (small)
View these products
And that's how it's done
And that's how it's done
Dry ingredients
Mix the flour, baking soda, salt and spices in a bowl.
Mixture
Heat the butter in a pan. Add the sugar, maple syrup, ginger and orange zest, stir until the sugar has dissolved. Remove the pan from the heat, allow to cool slightly. Add the butter mixture to the dry ingredients, quickly combine to form a dough, cover and refrigerate for approx. 2 hrs.
To shape
Roll out the dough in batches between two cut-open plastic bags to a thickness of approx. 3 mm. Use a round cutter to cut out circles (each approx. 6 cm in diameter), place on two baking trays lined with baking paper.
To bake
Bake each tray for approx. 6 mins. in the centre of an oven preheated to 200°C. Remove from the oven, leave to cool on a cooling rack.
Reindeer
On half of the biscuits, use a decorating pen to paint a small dot, stick a red Smartie to it, then use the pen to draw antlers and eyes.
Snowmen
Combine the egg whites with enough icing sugar to make a thick glaze. Coat the remaining biscuits with it. Place one marshmallow on each biscuit, use the decorating pen to draw arms, eyes, nose and buttons.