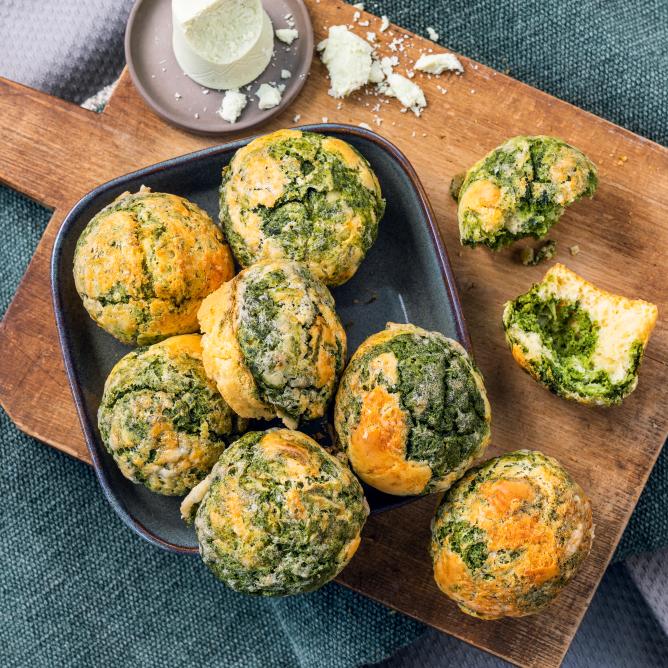 Schabziger and Swiss chard muffins
Nutrition facts per serving:
Energy in kcal

about 215

Fat

about 8g

Carbohydrates

about 23g

Protein

about 12g
This is needed
This is needed
for 10 pieces
Muffin batter
1 parcel baking powder
300 g white flour
1 tsp salt
2.5 dl milk
3 egg
80 g mountain cheese (e.g. Glarus Alpine cheese), finely grated
2 tbsp olive oil
Swiss chard pesto
1 garlic clove, coarsely chopped
olive oil
300 g Swiss chard, finely chopped
100 g Schabziger, roughly crumbled
View these products
And that's how it's done
And that's how it's done
Muffin batter
Mix the flour, baking powder, 50 g of cheese and salt. Beat the eggs, milk and oil, mix in. Transfer 3/4 of the batter to the prepared tin.
Swiss chard pesto
Heat the oil in a frying pan. Sauté the garlic and Swiss chard for approx. 5 mins., allow to cool slightly. Transfer the Swiss chard to a blender, add the Schabziger, puree. Mix with the remainder of the muffin batter, spoon the mixture on top of the batter in the tin, mix with a fork to create a marble effect. Scatter the rest of the cheese over the top.
To bake
Approx. 30 mins. in the centre of an oven preheated to 180°C. Remove from the oven, allow to cool slightly, remove from the tin, leave to cool completely on a rack.