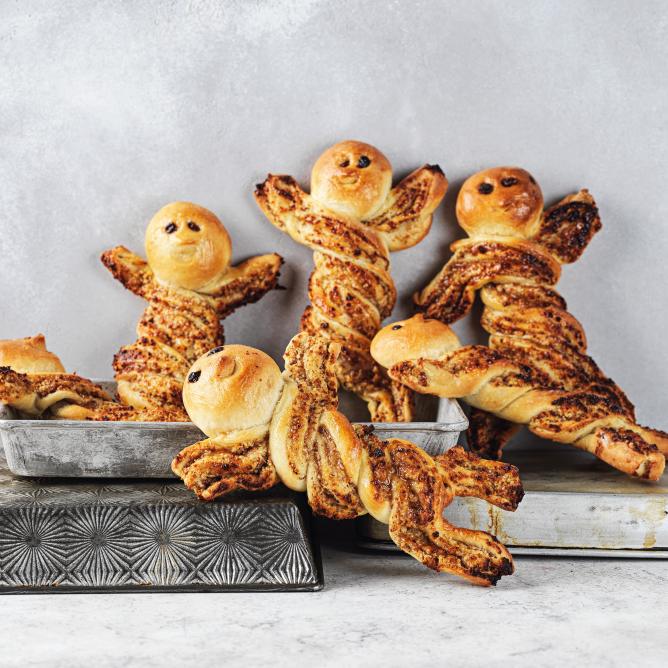 Filled almond & apple bread men
Nutrition facts per serving:
Energy in kcal

about 643

Fat

about 27g

Carbohydrates

about 75g

Protein

about 20g
This is needed
This is needed
for 6 piece
Dough
1.5 tsp salt
500 g white flour
1 tbsp sugar
0.25 cube yeast (approx. 10 g)
3 dl milk water (1/2 milk, 1/2 water)
60 g butter, soft
Filling
1 apple
200 g ground almonds
3 tbsp apple jelly
2 tbsp milk
2 tbsp lemon juice
View these products
And that's how it's done
And that's how it's done
Dough
Mix the flour, salt and sugar in a bowl, crumble the yeast and mix in. Cut the butter into pieces, add together with the milky water, knead for approx. 10 mins. until you have a soft, smooth dough. Cover and leave to rise at room temperature for approx. 2 hrs. until doubled in size.
Filling
Core the apple and grate finely into a bowl, mix in the almonds, jelly, milk and lemon juice.
Bread men
Divide the dough into 8 portions. On a lightly floured surface, roll out one portion into a rectangle (approx. 15 x 20 cm), spread 1/6 of the filling on top.
Roll the dough up from one of the long edges, cut the roll in half lengthwise.
Twist both strands together 3 times with the cut sides facing up to create an X shape. Shape a further 5 portions of dough in the same way to create the bodies.
Place on two trays lined with baking paper. Shape the remainder of the dough into 6 balls, place the heads on top of the bodies. Insert raisins for eyes. Cover and leave to rise for a further 30 mins.
To bake
Approx. 25 mins. in an oven preheated to 180°C (convection). Remove from the oven, stir the jelly until smooth, glaze the bread men with the jelly while still warm, leave to cool on a rack.