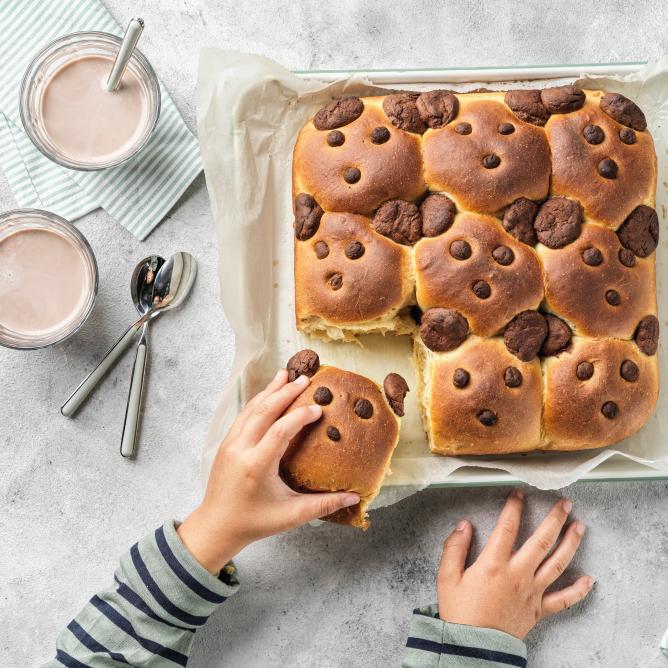 Nutrition facts per serving:
Energy in kcal

about 338

Fat

about 12g

Carbohydrates

about 57g

Protein

about 11g
This is needed
This is needed
for 9 pieces
Dough
600 g half-white flour
0.5 cube yeast (approx. 20 g)
0.75 tsp salt
3 dl milk
1 egg
3 tbsp liquid honey
85 g butter
1 tbsp cocoa powder
25 g dark chocolate
Tools
Apron, baking paper, Bowl, Measuring cup, Oven mitts, Pan, Paring knife, Rubber spatula, Tablespoon, Teaspoon, Timer, square springform pan (approx. 24 cm), small bowl, Cutting board, Kitchen scales, Cooling rack
View these products
And that's how it's done
And that's how it's done
Dough
Mix the flour and salt in a bowl. Crumble the yeast, mix in. Combine the milk, egg and honey, add to the bowl, mix, knead to form a soft, smooth dough. Cut the butter into pieces, add to the dough, knead for a further 5 mins.
Finely chop the chocolate, place in a thin-sided bowl. Suspend over a gently simmering bain-marie; the bowl must not touch the water. Melt the chocolate, add the cocoa powder, stir until smooth, allow to cool slightly. Remove 120 g of dough, place in a bowl. Add the chocolate, knead into the dough. Cover the dark and light dough and leave to rise at room temperature for approx. 1 hr. until doubled in size.
Tins
Line the square panform pan base (approx. 24 cm) with baking paper, grease the sides. Divide the light dough into 9 equal pieces, shape into balls, place in the prepared tin with the sealed edge facing down. Cover and leave to rise for approx. 45 mins. Use the dark dough to make 18 eyes, 18 ears and 9 noses, place on the dough balls.
To bake
Approx. 30 mins. in the lower half of an oven preheated to 200°C. Remove from the oven, allow to cool slightly, remove the tin frame, leave the rolls to cool on a rack.