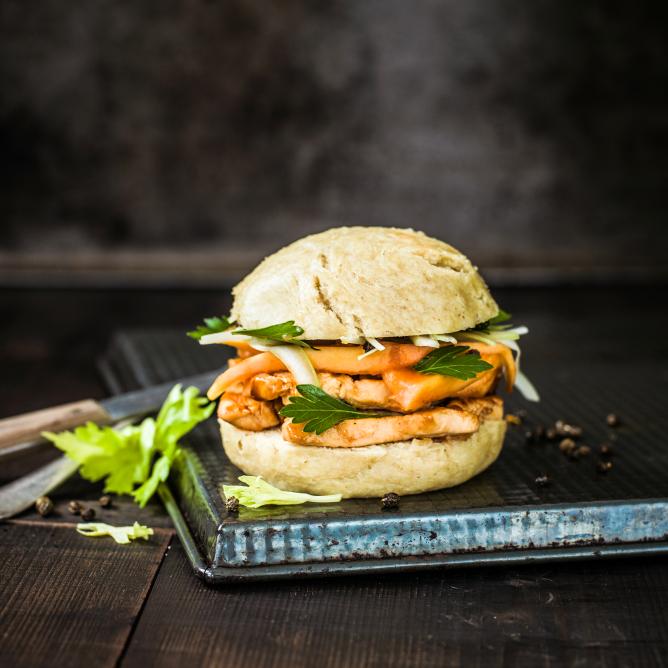 Nutrition facts per serving:
Energy in kcal

about 524

Fat

about 18g

Carbohydrates

about 56g

Protein

about 33g
This is needed
This is needed
for 4 portion
Yeast dough
0.25 tsp salt
250 g white flour
1.5 tbsp sugar
1.5 tsp dry yeast
50 g butter, soft
0.5 tsp sodium bicarbonate
1.25 dl lukewarm water
0.5 tsp lemon juice
Sauce
1 tomato (approx. 250 g), in cubes
0.5 dl chicken bouillon
3 tbsp soy sauce
0.5 tbsp oyster sauce
1 tsp hot paprika
0.25 tsp chilli powder
1.5 tsp sugar
1 garlic clove, finely chopped
Chicken
1 tbsp peanut oil
400 g chicken breasts, cut into thin slices
0.25 papaya, seeds set aside, rest cut into slices
0.5 bunch coriander, torn into pieces
100 g celery, with greens, thinly sliced
View these products
And that's how it's done
And that's how it's done
Yeast dough
In a bowl, mix the flour with all the other ingredients up to and including the sodium bicarbonate. Add the butter, water and lemon juice, knead into a soft, smooth dough, cover and leave to rise for approx. 2 hrs. at room temperature until doubled in size.
To shape
Shape the dough into four balls, place each one on a piece of baking paper, cover and leave to rise for a further 30 mins. To steam the dough, sit the steaming basket on a wide-bottomed pan. Fill with water until it is just below the bottom of the basket, arrange the dough balls in the steaming basket with the baking paper, cover and cook over a medium heat for approx. 13 mins.
Sauce
Mix the tomatoes and remaining ingredients in a pan and bring to the boil. Reduce the heat, cover and simmer over a medium heat for approx. 10 mins., remove the lid and simmer for a further 10 mins., leave to cool.
Chicken
Heat the oil in a wide-bottomed frying pan, brown the chicken in batches for approx. 2 mins. Reduce the heat, add the sauce, simmer for a further 2 mins. Toast the papaya seeds over a medium heat. Cut open the rolls, place the chicken on the bottom half of each roll and arrange the papaya, papaya seeds, celery and coriander on top, cover with the top half of the bread roll.