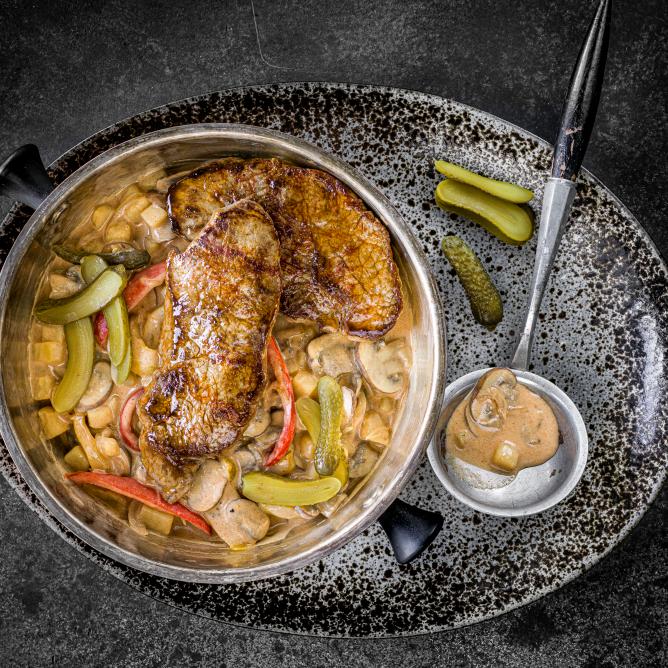 Beef frying steak (à la stroganoff)
Nutrition facts per serving:
Energy in kcal

about 532

Fat

about 23g

Carbohydrates

about 21g

Protein

about 58g
This is needed
This is needed
for 4 people
Meat
clarified butter for frying
4 beef frying steaks (each approx. 170 g)
1 tsp salt
a little sweet paprika
Vegetables and sauce
300 g mealy potatoes, diced
250 g mushrooms, thinly sliced
2 onions, thinly sliced
2 red peppers, thinly sliced
2 dl single cream for sauces
1 tsp Maizena cornflour
salt and pepper to taste
4 gherkins, sliced lengthwise
2 dl beef bouillon
1.5 tsp sweet paprika
View these products
And that's how it's done
And that's how it's done
Meat
Heat the clarified butter in a frying pan. Fry the steaks for approx. 2½ mins. on each side. Remove, season. Reduce the heat.
Vegetables and sauce
Heat a little clarified butter in the same pan. Sauté the potatoes, onions, mushrooms and peppers for approx. 5 mins. Mix the cornflour with the stock and cream, pour in while stirring, cook over a medium heat for approx. 5 mins., season. Return the meat to the pan with the resulting cooking juices, heat gently. Top with the gherkins.