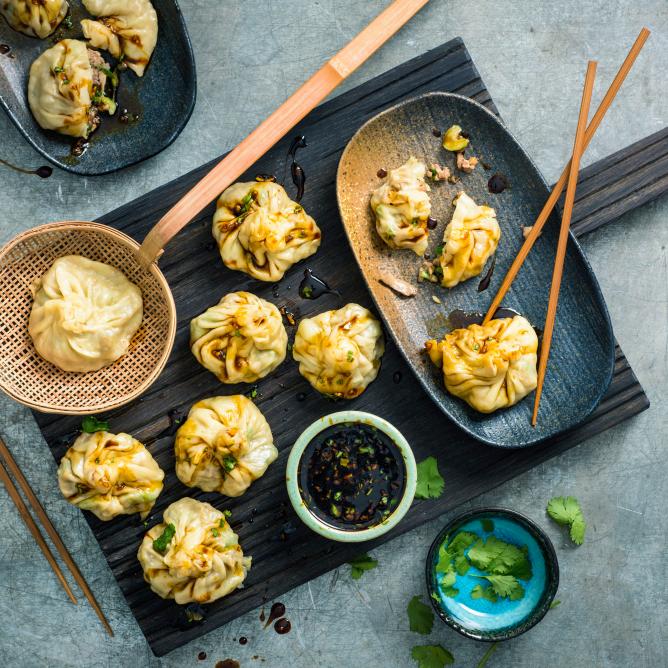 Nutrition facts per serving:
Energy in kcal

about 74

Fat

about 2g

Carbohydrates

about 9g

Protein

about 4g
This is needed
This is needed
for 20 piece
Dough
250 g white flour
1.5 dl water
1 pinch salt
Filling
200 g minced meat (beef)
1 pak choi (approx. 150 g), finely chopped
100 g shiitake mushrooms, finely chopped
1 stick lemongrass, core finely chopped
2 garlic clove, squeezed
1 tbsp sesame oil
2 tsp ginger, finely grated
1.5 tbsp soy sauce
Dip
4 tbsp soy sauce
1 garlic clove, squeezed
0.5 bunch coriander, finely chopped
Tools
For 2 bamboo steaming baskets (each approx. 22 cm in diameter), lined with baking paper For 20 dumplings
View these products
And that's how it's done
And that's how it's done
Dough
Mix the flour and salt in a bowl, pour in the water, knead into a smooth dough, cover and leave to rest at room temperature for approx. 20 mins.
Filling
Mix the meat with all of the other ingredients and the sesame oil.
To shape
Shape the dough into 2 rolls, each approx. 20 cm in diameter. Cut each roll into 10 equal pieces. On a lightly floured surface, roll out the pieces of dough into circles (each approx. 12 cm in diameter).
Dumplings
Place 1 tbsp of filling in the middle of one piece of dough. Brush with a little water, press the edges together using your thumb and forefinger, place in the prepared steaming baskets.
To steam
Place a steaming basket into a wide pan, fill with water until it is just below the bottom of the basket, bring to the boil. Place the second basket on top, cover and steam over a medium heat for approx. 5 mins. Change the position of the baskets around, steam for approx. 5 mins. more.
Dip
Combine the soy sauce, garlic and coriander, serve alongside the dumplings as a dip.