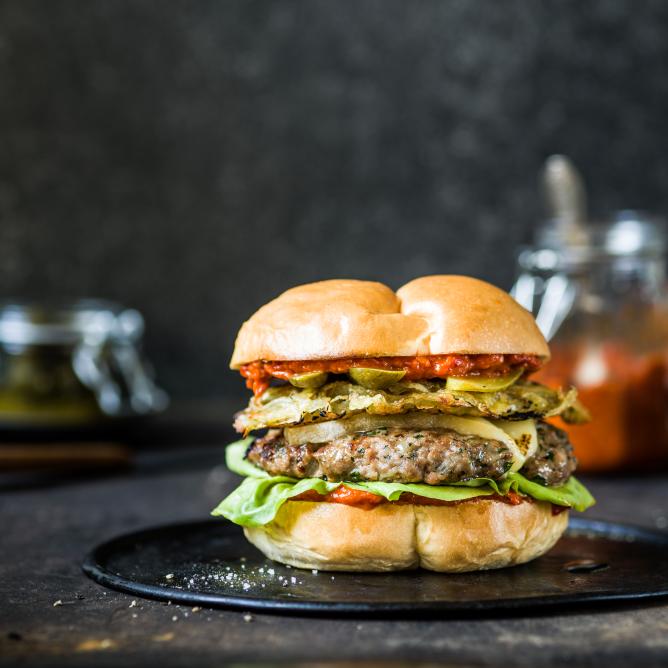 Nutrition facts per serving:
Energy in kcal

about 702

Fat

about 53g

Carbohydrates

about 48g

Protein

about 39g
This is needed
This is needed
for 4 people
Sausage burgers
2 cervelat sausages, cut into pieces
350 g minced meat (beef)
1 shallot, finely chopped
0.5 tsp salt
a little pepper
2 tbsp flat-leaf parsley, finely chopped
Potato rösti
250 g waxy potatoes, coarsely grated
0.25 tsp salt
1 tbsp clarified butter
Burgers
4 bread roll, halved crosswise
4 lettuce leaves
4 slices raclette cheese (approx. 120 g)
8 tbsp Ajvar (pepper spread) mild ajvar
2 gherkins, sliced lengthwise
View these products
And that's how it's done
And that's how it's done
Sausage burgers
Finely chop the sausages in a food processor, mix together with the mince and all the other ingredients up to and including the pepper, knead well by hand until the ingredients have combined to form a compact mass. Divide the mixture into 4 portions, shape into burgers.
To grill
Charcoal/gas/electric grill: Grill the burgers over/on a very high heat (approx. 240 °C for approx. 2 mins. on each side. Move the burgers to the side or reduce the heat. Grill for approx. 5 mins. over a medium heat (approx. 200 °C until cooked, turning the burgers from time to time.
Potato rösti
Mix the potatoes and salt, shape into 4 patties. Heat the clarified butter in a non-stick frying pan, fry the rösti for approx. 5 mins. on each side.
Burgers
Spread the ajvar on the bread. Top with the salad, burger, cheese, rösti and gherkin, cover with the top half of the bread roll.