Marinated beef fillet shashimi with yuzo kosho and roasted white cabbage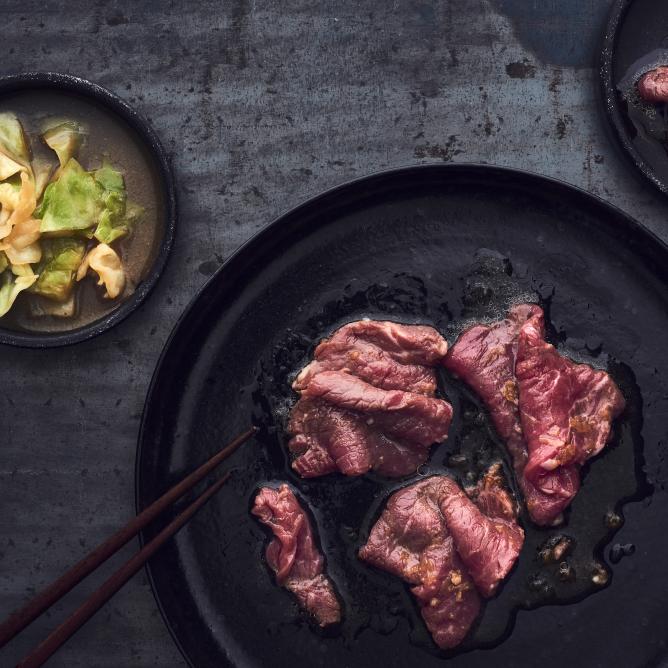 Marinated beef fillet shashimi with yuzo kosho and roasted white cabbage
Nutrition facts per serving:
Energy in kcal

about 190

Fat

about 5g

Carbohydrates

about 9g

Protein

about 24g
This is needed
This is needed
for 4 people
Beef fillet sashimi
400 g beef tenderloin, cut into strips 3 mm thick and 2 cm wide
1 tbsp cane sugar
0.5 organic lemon, grated zest and the juice
1.5 tbsp Fine Food Marushima Shoyu
0.5 cm ginger, grated
1 garlic clove, squeezed
1 tbsp dark sesame oil
White cabbage
400 g white cabbage, cut into approx. 2 cm thick carvings
0.25 tsp yuzukosho (japanese citrus-chilli paste)
1 dl beef bouillon
1 tsp miso paste
View these products
And that's how it's done
And that's how it's done
Beef fillet sashimi
Divide the beef fillet onto plates. Combine the lemon zest and juice in small pan with the sugar, soy sauce, ginger, garlic and oil. Gently warm the marinade, pour over the beef fillet and marinate at room temperature for approx. 15 mins.
White cabbage
Heat a non-stick frying pan and toast the white cabbage for approx. 2 mins. each side. Combine the stock, miso paste and yuzu kosho, pour over the cabbage, bring to the boil and marinate over a low heat for approx. 10 mins. Plate up the cabbage with the sashimi. Goes well with toasted slices of white bread.