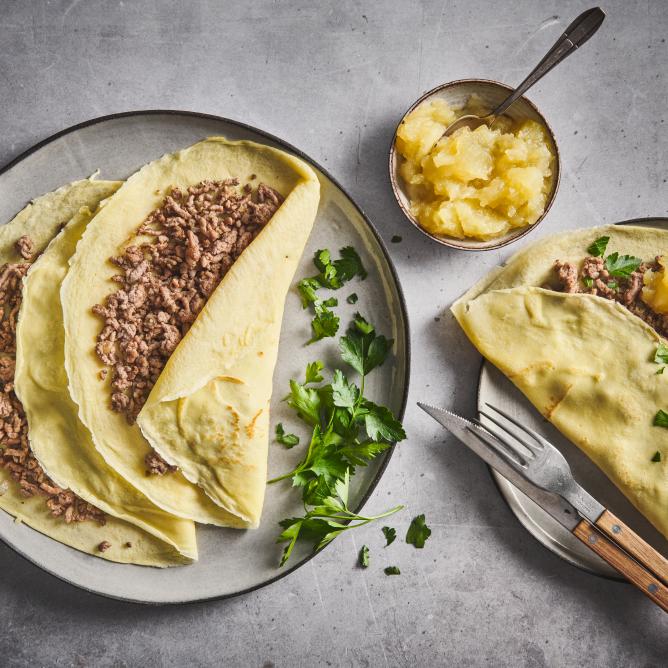 Mince omelettes with apple sauce
Nutrition facts per serving:
Energy in kcal

about 781

Fat

about 43g

Carbohydrates

about 56g

Protein

about 40g
This is needed
This is needed
for 4 people
Batter
200 g white flour
4 dl milk
4 fresh egg
50 g butter, melted, left to cool
0.5 tsp salt
Apple sauce
500 g apples, peeled, deseeded, diced
1 tbsp sugar
0.25 dl water
a little cinnamon
Omelettes
clarified butter for frying
Mince
1 tbsp clarified butter
1 shallot, finely chopped
500 g minced meat (beef)
1 garlic clove, squeezed
0.5 tsp salt
a little pepper
To serve
2 sprigs flat-leaf parsley, finely chopped
View these products
And that's how it's done
And that's how it's done
To prepare
Preheat the oven to 60°C, warm the platter and plates.
Batter
Place the flour, eggs, milk, butter and salt in a large measuring cup, puree with the blender. Cover the batter and leave to stand for approx. 10 mins.
Apple sauce
Bring the apples, sugar, cinnamon and water to the boil in a pan. Cover and simmer for approx. 30 mins. until soft, stirring occasionally. Whisk thoroughly.
Omelettes
Heat a little clarified butter in a non-stick frying pan. Pour enough batter into the pan to thinly cover the base. Reduce the heat. Once the underside is cooked and separates from the pan, turn the omelette and finish cooking. Remove, keep warm and make 10 more omelettes using the remaining batter.
Mince
Heat the clarified butter in a frying pan. Add the meat in batches, fry for approx. 4 mins. each, remove from the pan. Reduce the heat, add the shallot and garlic, sweat for approx. 3 mins. Return the meat to the pan, season.
To serve
Fill the omelettes with the mince, garnish with parsley, serve with apple sauce.