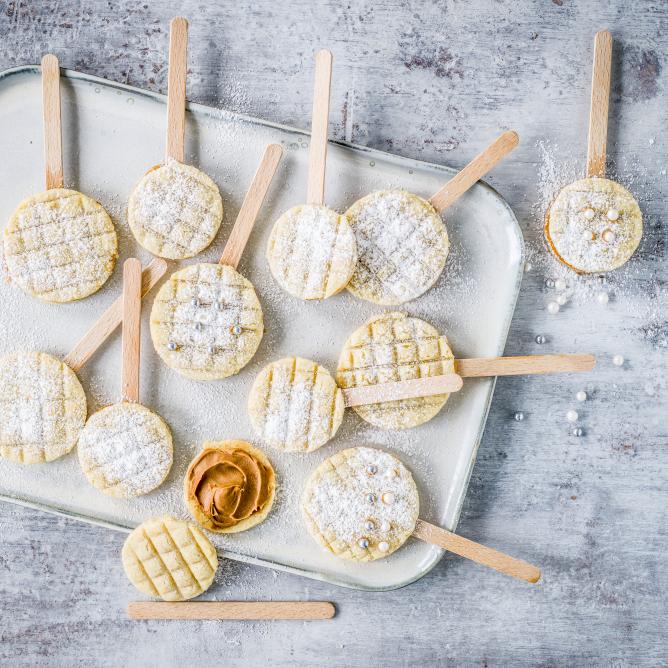 Nutrition facts per serving:
Energy in kcal

about 149

Fat

about 8g

Carbohydrates

about 16g

Protein

about 3g
This is needed
This is needed
for 40 piece
Dough
400 g white flour
200 g shelled ground almonds
200 g sugar
1 organic lemon, use grated zest only
0.5 tsp salt
200 g butter, cut into pieces, cold
2 egg, beaten
Waffles
2 tbsp icing sugar
100 g caramel cookie spread
40 wooden sticks
100 g apricot jam
a little sugar pearl
a little caramel cookie spread
View these products
And that's how it's done
And that's how it's done
Dough
Mix the flour, almonds, sugar, lemon zest and salt in a bowl. Add the butter and rub together using your hands to form an even, crumbly mixture. Add the eggs, mix quickly to form a soft dough – do not knead. Flatten the dough, cover and chill for approx. 30 mins.
To shape
Roll out the dough in batches between a cut-open plastic bag to a thickness of approx. 2 mm. Cut out circles approx. 5 cm in diameter. Place the biscuits on two baking trays lined with baking paper, chill for approx. 15 mins.
To bake each tray
Approx. 8 mins. in the centre of an oven preheated to 200°C. Using a cooling rack, immediately press squares into half of the circles, leave all of the biscuits to cool on a cooling rack.
Waffles
Cover the bases with the spread and the lids with the apricot jam, place the wooden sticks in the middle of the bases, place the lids on top, press down gently, dust with icing sugar. Decorate the waffles with the pearls (using a little of the spread to glue them down).