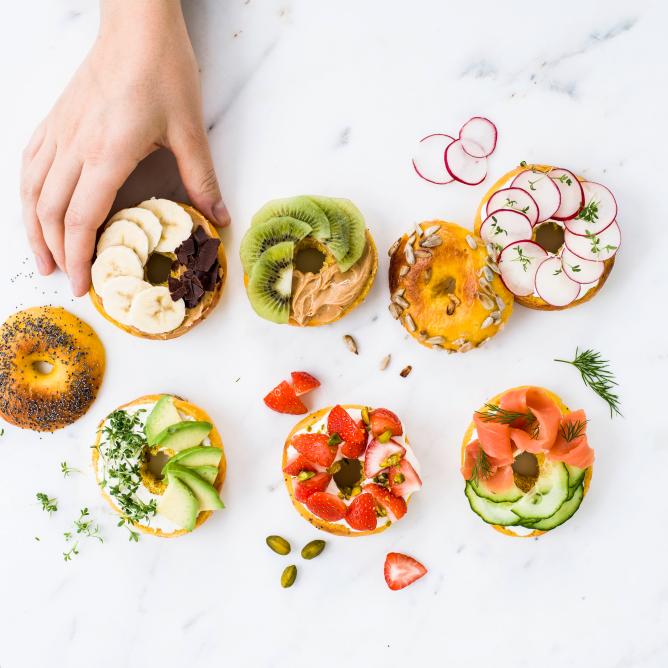 Nutrition facts per serving:
Energy in kcal

about 221

Fat

about 10g

Carbohydrates

about 24g

Protein

about 7g
This is needed
This is needed
for 20 piece
Dough
500 g white flour
3 dl carrot juice
0.25 cube yeast (approx. 10 g), crumbled
1 tbsp liquid honey
1 egg white, beaten
0.5 tbsp salt
40 g butter, soft
To shape
salted water, boiling
1 egg yolk, thinned with 1 tbsp. milk
3 tbsp poppy seed or sesame or sunflower seeds
Topping
1 bunch radish, thinly sliced
100 g peanut butter
100 g smoked salmon in slices
0.5 cucumber, thinly sliced
200 g cream cheese
1 avocado, cut into strips
30 g cress
0.5 bunch dill
2 kiwis, thinly sliced
1 bananas, thinly sliced
250 g strawberries, quartered
2 tbsp unsalted, shelled pistachios, coarsely chopped
2 tbsp chocolate sprinkles
View these products
And that's how it's done
And that's how it's done
Dough
Mix the flour, salt and yeast in a bowl. Combine the carrot juice with all the other ingredients up to and including the butter, knead to form a soft, smooth dough. Cover and leave to rise at room temperature for approx. 1½ hrs. until doubled in size.
To shape
Place the dough on a lightly floured surface, do not knead any more, shape into a roll. Divide the dough into 20 portions and shape them into balls. Make a hole in the middle of each with a lightly floured wooden spoon handle. Allow the dough rings to form around the handle until an opening approx. 4 cm in diameter is created. Place the bagels on a baking tray lined with baking paper, cover and leave to rise for approx. 15 mins. Cook approx. 3 bagels at a time in just-boiling salted water for approx. 12 seconds. Remove with a slotted spoon, drain thoroughly and return to the baking paper. Coat bagels with a little egg yolk, poppy seeds, sesame or sunflower seeds.
To bake
Approx. 15 mins. in the centre of an oven preheated to 220°C. Remove from the oven, leave to cool on a cooling rack.
Topping
Cut the bagels in half crosswise, spread with cream cheese or peanut butter. Top bagels with the remaining ingredients as desired.