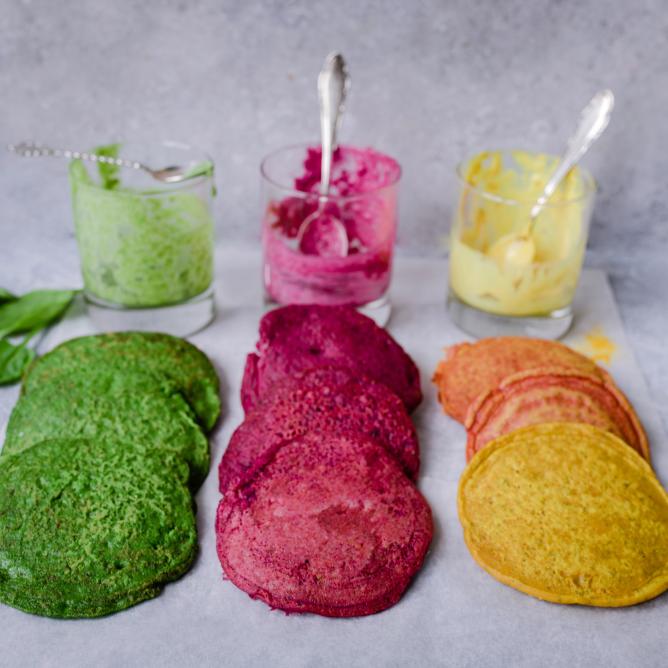 Nutrition facts per serving:
Energy in kcal

about 205

Fat

about 10g

Carbohydrates

about 23g

Protein

about 5g
This is needed
This is needed
for 9 piece
Basic batter
3 tbsp crushed linseed
2 tsp baking powder
1 pinch salt
240 g white flour
3 dl coconut milk
1 tbsp Maizena cornflour
a little pepper
1 tbsp apple vinegar
Spinach pancakes
80 g baby spinach
1 tbsp coconut milk
1 pinch nutmeg
Beetroot pancakes
80 g boiled beets, cut into pieces
2 tbsp coconut milk
Turmeric pancakes
60 g carrots, cooked
1 tbsp turmeric
1 tbsp coconut milk
View these products
And that's how it's done
And that's how it's done
Basic batter
Mix the linseed with the coconut milk, leave to absorb for approx. 10 mins. Mix the flour, baking powder, cornflour, salt and pepper in a bowl. Create a well in the middle. Pour in the coconut milk and linseed, and add the vinegar. Using the whisk on a mixer, beat until the batter is smooth. Divide the mixture into three bowls.
Spinach pancakes
Puree the spinach, coconut milk and nutmeg in a blender, stir into one of the bowls of batter.
Beetroot pancakes
Puree the beetroot and coconut milk in a blender, stir into the second bowl of batter.
Turmeric pancakes
Puree the carrots, coconut milk and turmeric in a blender, stir into the remaining bowl of batter.
To cook the pancakes
Heat the oil in a small non-stick frying pan. Reduce the heat. Add as much batter as it takes to make pancakes of approx. 15 cm in diameter. Once the undersides are cooked they will no longer stick to the pan. Toss the pancakes, finish cooking and then keep warm. Repeat these steps with the remainder of the batter.