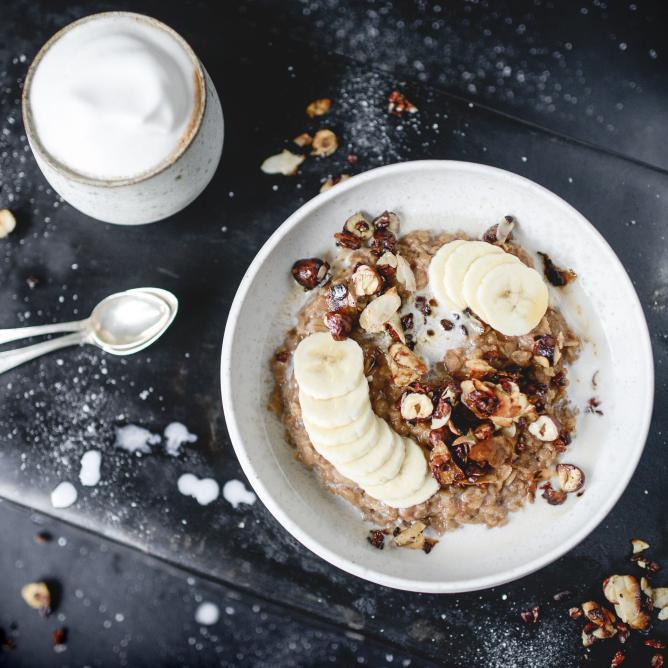 Gingerbread porridge with a hazelnut and almond crunch
Nutrition facts per serving:
Energy in kcal

about 545

Fat

about 24g

Carbohydrates

about 79g

Protein

about 13g
This is needed
This is needed
for 1 people
Crunchy topping
2 tsp maple syrup
1 tbsp hazelnuts, chopped
2 tsp Cocoa Nibs
1 tbsp flaked almonds
Porridge
1 pinch Himalayan salt
2.5 dl water
2.5 tbsp whole-grain rolled oats
0.5 tsp vanilla paste
2.5 dl oat drink (or a milk of your choice)
2.5 tbsp fine whole-grain rolled oats
1 tbsp maple syrup
1 tsp gingerbread spice
Toppings
a little maple syrup
0.5 bananas (well ripened), sliced
a little oat drink (or a milk of your choice)
View these products
And that's how it's done
And that's how it's done
Crunchy topping
Mix the hazelnuts with the flaked almonds and maple syrup in a small frying pan, caramelize over a medium heat until golden brown. Remove from the hob, mix in the cocoa nibs. Leave to cool and become crunchy.
Porridge
Boil the water and salt in a medium-sized pan. Add the oat flakes, return to the boil. Add the oat milk, gingerbread spices and vanilla, stir well, simmer over a medium heat for 5-7 mins., stirring occasionally. Stir the porridge again thoroughly before serving, stir in a little more oat milk and maple syrup to taste.
Toppings
Serve the porridge in a bowl, scatter over the crunchy topping and sliced banana. Drizzle a little maple syrup and oat milk over the top, serve immediately.