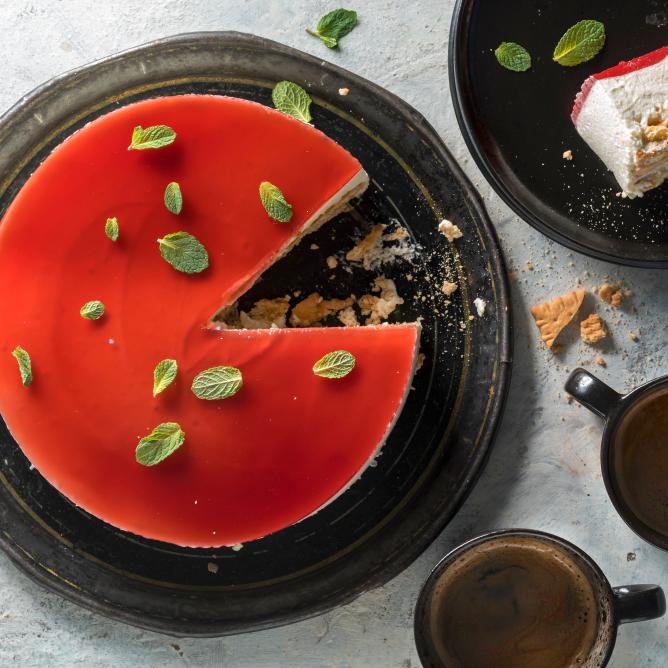 Nutrition facts per serving:
Energy in kcal

about 225

Fat

about 10g

Carbohydrates

about 28g

Protein

about 5g
This is needed
This is needed
for 12 piece
Base
160 g butter biscuit (e.g. Petit Beurre)
80 g apricot jam
Yoghurt mousse
500 g apricot yoghurt
50 g sugar
7 leaves gelatine (immersed in cold water for approx. 5 mins.)
3 tbsp water, boiling
2.5 dl full cream
2 fresh egg whites
1 pinch salt
Fruit jelly
3 dl water
1 tsp lemon juice
3 tbsp sugar
5 leaves gelatine (immersed in cold water for approx. 5 mins.)
5 bags fruit tea (e.g. strawberry, raspberry and rhubarb)
Tools
One springform pan (approx. 24 cm in diameter), brushed with a little oil and lined with cling film
View these products
And that's how it's done
And that's how it's done
Base
Place the springform pan on a cake plate. Spread the biscuits over the base in a circle, overlapping slightly. Transfer the jam to a disposable piping bag. Cut off the tip, pipe the jam onto the biscuits.
Yoghurt mousse
Mix the yoghurt and sugar in a bowl. Dissolve the gelatine in boiling water, combine with 2 tbsp of the yoghurt mixture and immediately stir into the remaining yoghurt. Whip the cream until stiff, place on top of the yoghurt mixture. Beat the egg white with the salt until stiff, carefully fold into the mixture along with the whipped cream. Spread the yoghurt mixture over the biscuits, smooth down. Cover the torte and refrigerate for approx. 3 hrs. until set.
Fruit jelly
Bring the water, lemon juice and sugar to the boil in a pan, remove from the heat, add the teabags, leave to steep for approx. 5 mins. Remove the bags, stir the gelatine into the hot liquid, allow to cool a little. Pour the jelly over the torte, leave to set in the fridge for approx. 1 hr. Carefully remove the tin frame.