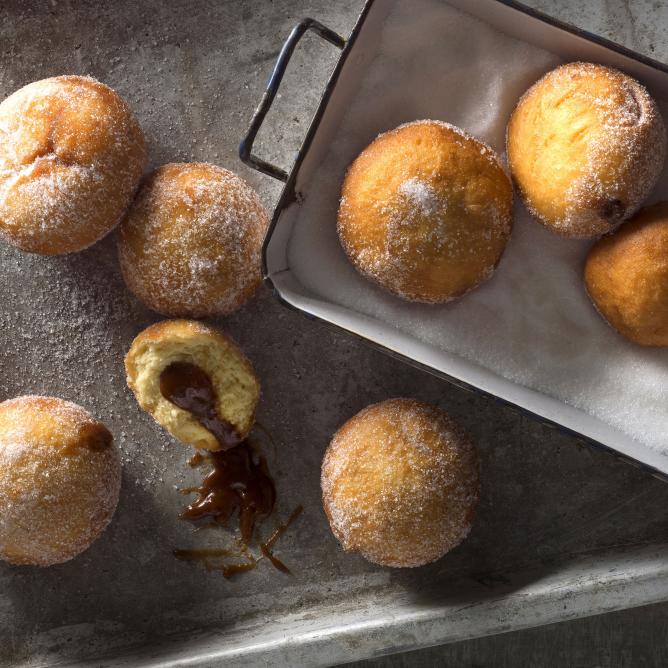 Nutrition facts per serving:
Energy in kcal

about 371

Fat

about 18g

Carbohydrates

about 49g

Protein

about 3g
This is needed
This is needed
for 12 piece
Doughnut dough
300 g gluten-free flour, Schär bread mix B
2 tsp ground psyllium
0.5 tsp salt
4 tbsp sugar
0.5 cube yeast (approx. 20 g), crumbled
50 g lactose-free butter, cut into pieces
1.75 dl lactose-free milk
1 egg, beaten
Caramel filling
4 tbsp water
200 g sugar
2 dl lactose-free full cream
100 g sugar
View these products
And that's how it's done
And that's how it's done
Doughnut dough
In a bowl, mix the flour with all the other ingredients up to and including the yeast. Add the butter, milk and egg, mix and knead to form a soft, smooth dough. Divide the dough into 12 portions, shape into balls, place on a baking tray lined with baking paper, cover and leave to rise at room temperature for approx. 1 1/2 hrs.
To deep-fry
Fill a pot to 1/3 with oil and heat it to approx. 160°C. Place the dough balls in the oil in batches using a slotted spoon, fry for approx. 2 mins. on both sides. Remove and drain on paper towels.
Caramel filling
Boil the sugar and water in a wide-bottomed pan without stirring. Reduce the heat and simmer, swirling the pan occasionally, until a light brown caramel has formed. Remove the pan from the heat, pour in the cream, simmer over a low heat until the caramel has dissolved, reduce for approx. 5 mins., allow to cool for approx. 15 mins. To fill, insert a straw two-thirds of the way into the doughnuts, work the straw backwards and forwards a few times until the hole is approx. 5 mm wide. Transfer the caramel to a piping bag with a smooth nozzle (approx. 5 mm in diameter) and pipe into the doughnuts. Pour the sugar into a deep bowl and roll the doughnuts in the sugar.