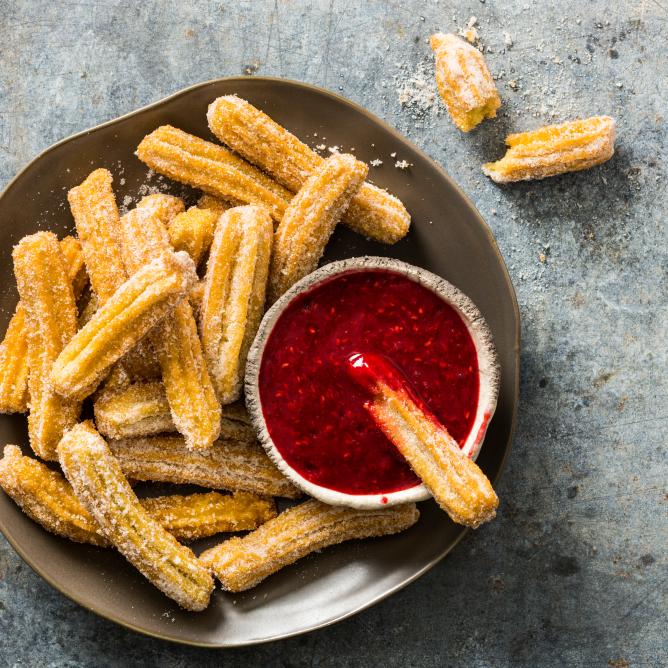 Churros with raspberry sauce
Nutrition facts per serving:
Energy in kcal

about 139

Fat

about 9g

Carbohydrates

about 12g

Protein

about 2g
This is needed
This is needed
for 20 piece
Raspberry sauce
200 g frozen raspberries, defrosted
1 lime, the whole juice
40 g icing sugar
Choux pastry
2.5 dl water
140 g gluten-free flour (Schär)
0.5 vanilla pod, cut open lengthwise; only use the scraped-out seeds
75 g lactose-free butter
0.25 tsp salt
0.5 tbsp ground psyllium
1 pinch gluten-free baking powder (Dr. Oetker)
To deep-fry the churros
oil, for deep-frying
5 tbsp sugar
0.5 tsp cinnamon
View these products
And that's how it's done
And that's how it's done
Raspberry sauce
Purée the raspberries with the icing sugar and lime juice, cover and chill.
Choux pastry
Bring the water, butter, vanilla seeds and salt to the boil, reduce the heat. Combine the flour, psyllium and baking powder, add all at once, stir with a risotto spoon for approx. 1 1/2 mins. until a smooth dough is formed which separates from the base of the pan. Remove the pan from the heat.
To mix in the eggs
Using the whisk attachment on a hand mixer, gradually whisk in the eggs; the dough should be soft but not runny. Transfer the dough to a piping bag with a serrated nozzle (approx. 10 mm in diameter)
To deep-fry the churros
Fill a pot to 1/3 with oil and heat it to approx. 160°C. Pipe the dough (approx. 8 cm long) into the hot oil in batches, cut with scissors, deep-fry for approx. 5 mins. until golden brown. Remove and drain on paper towels. Mix the sugar and cinnamon, toss the churros in the sugar.