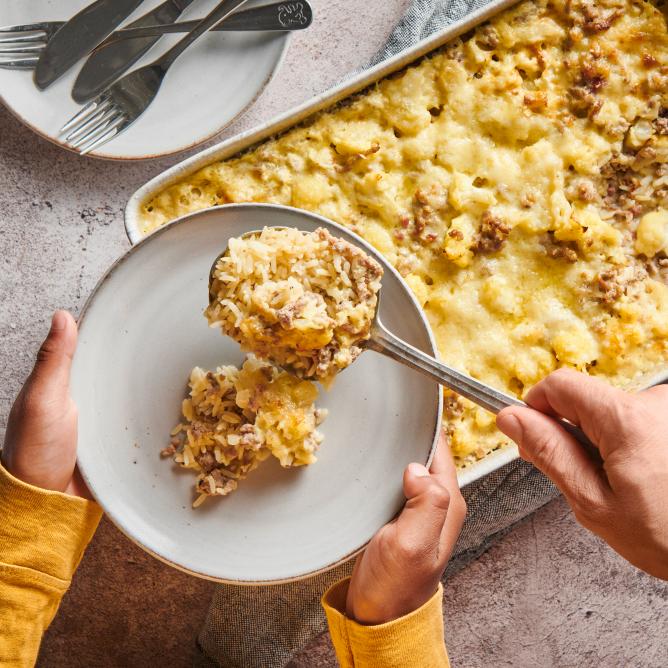 Cauliflower and rice gratin
Nutrition facts per serving:
Energy in kcal

about 855

Fat

about 46g

Carbohydrates

about 66g

Protein

about 43g
This is needed
This is needed
for 4 people
Cauliflower
300 g long grain rice
1 onions
1 cauliflower (approx. 600 g)
1 garlic clove
Meat
80 g diced bacon
a little pepper
oil for frying
400 g minced meat (beef and pork)
0.25 tsp salt
4 dl vegetable bouillon
Sauce
4 dl vegetable bouillon
200 g single cream for sauces
0.5 tsp mild curry powder
0.5 tsp salt
1 egg
Tools
Apron, Bowl, Cooking spoon, Frying pan, Garlic press, Measuring cup, ovenproof dish (approx. 3 l), Oven mitts, Paring knife, Sieve, Tablespoon, Teaspoon, Timer, Whisk, Cutting board, Kitchen scales
View these products
And that's how it's done
And that's how it's done
Dish
Grease the dish with butter.
Cauliflower
Rinse the rice in a sieve under cold running water, place in the prepared dish. Remove the stalk from the cauliflower. Separate the cauliflower into florets. . Peel and finely chop the onion, press the garlic.
Meat
Heat the oil in a frying pan. Brown the meat for approx. 5 mins. per batch. Remove, season, reduce the heat, add the diced bacon, fry briefly. Reduce the heat, add the onion and garlic, cook briefly. Pour in the stock, add the cauliflower, simmer for approx. 5 mins. until just soft, spread on top of the rice along with the meat, mix.
Sauce
Combine the stock, single cream and egg, season. Pour the sauce over the cauliflower and rice, mix.
To bake
Approx. 30 mins. in the centre of an oven preheated to 180°C. Remove, mix, sprinkle with cheese. Return to the oven for approx. 20 mins.