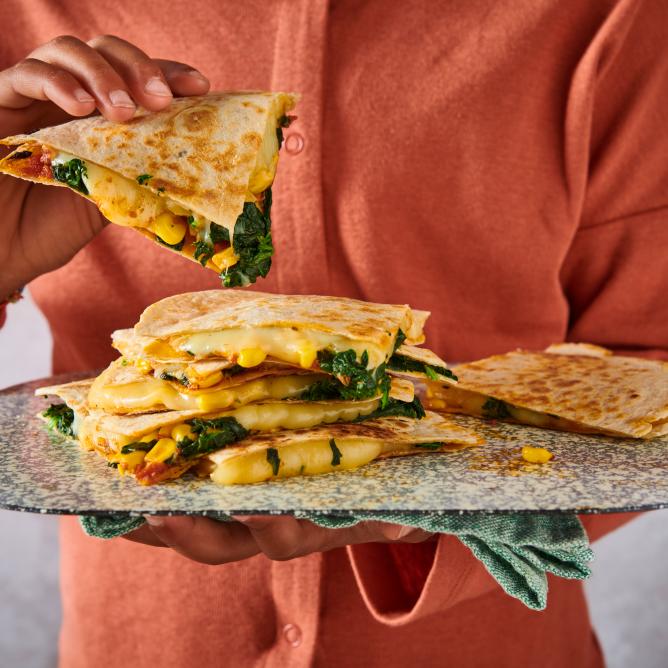 Nutrition facts per serving:
Energy in kcal

about 856

Fat

about 43g

Carbohydrates

about 73g

Protein

about 42g
This is needed
This is needed
for 4 people
Spinach and sweetcorn
240 g frozen leaf spinach, defrosted
1 tin corn kernels (approx. 140 g)
To fill
4 tbsp red tapenade
8 wheat tortillas
0.25 tsp salt
400 g raclette cheese in slices
Tools
Apron, Frying pan, Paring knife, Sieve, Spatula, Tablespoon, Teaspoon, Timer, small bowl, Cutting board, Kitchen scales
View these products
And that's how it's done
And that's how it's done
Spinach and sweetcorn
Place the spinach in a sieve, squeeze out and roughly tear. Drain the sweetcorn, mix with the spinach.
To fill
Spread the tapenade over the tortillas. Divide the spinach and sweetcorn between 4 tortillas, season with salt. Halve the cheese slices, place on top.
Cover with the remaining tortillas, press down gently.
Quesadillas
Cover and cook the quesadillas in batches in a non-stick frying for approx. 2 mins. Turn the quesadillas and cook for a further 2 mins. until the cheese has melted. Remove, cut into triangles.