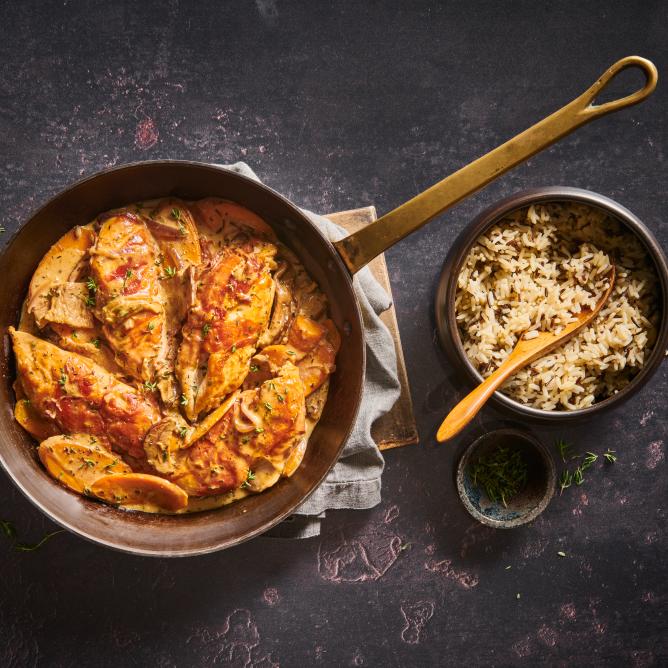 Chicken with mushroom sauce
Nutrition facts per serving:
Energy in kcal

about 664

Fat

about 19g

Carbohydrates

about 72g

Protein

about 45g
This is needed
This is needed
for 4 people
Chicken
4 chicken breasts (each approx. 120 g)
0.5 tsp salt
a little pepper
4 slices cured ham
Sauce
1 tbsp olive oil
1 garlic clove, squeezed
1 red onion, thinly sliced
15 g dried porcini mushrooms, immersed in cold water for approx. 5 mins., drained
0.5 bunch thyme, finely chopped
1 tbsp honey mustard
300 g carrots, diagonally sliced
2 dl single cream for sauces
1 dl white wine
0.25 tsp salt
1 dl water
Wild rice
350 g wild rice mix
8 dl salted water, boiling
1 tbsp honey mustard
View these products
And that's how it's done
And that's how it's done
Chicken
Season the chicken breasts, wrap each one in a slice of cured ham. Heat the frying pan, fry the chicken over a medium heat for approx. 5 mins. on each side. Remove the chicken, set aside.
Sauce
Heat the oil in the same frying pan, add the garlic, onion and thyme, briefly sauté. Add the mushrooms and carrots, cook for approx. 10 mins. Add the mustard, pour in the single cream, wine and water, season with salt. Return the chicken to the pan and simmer for approx. 10 mins.
Wild rice
Cook the rice (uncovered) in boiling salted water for approx. 15 mins., mix in the mustard. Plate up the rice, serve the chicken and vegetables on top.