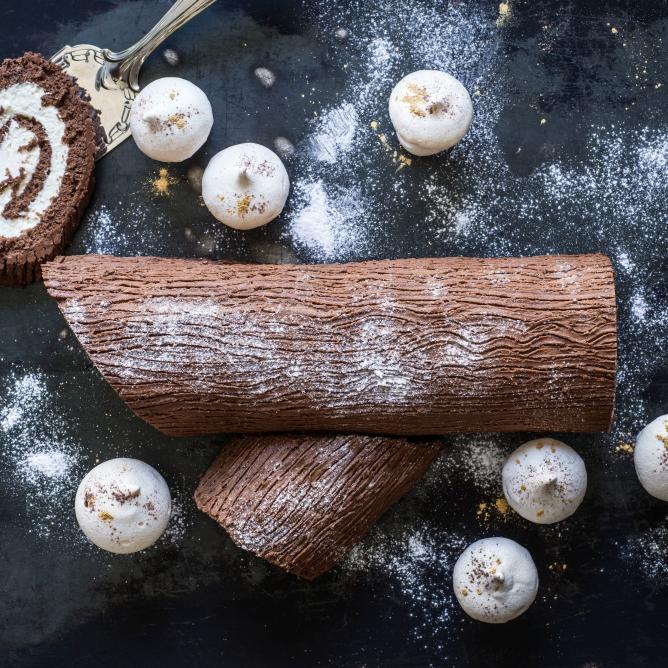 Nutrition facts per serving:
Energy in kcal

about 357

Fat

about 23g

Carbohydrates

about 32g

Protein

about 5g
This is needed
This is needed
for 12 people
Sponge
100 g icing sugar
4 egg white
4 egg yolk
2 tbsp water, hot
1 organic orange, use only half of grated zest, set aside the remaining zest
1 pinch salt
100 g white flour
3 tbsp cocoa powder
0.5 tsp baking powder
Filling
70 g icing sugar
200 g cream cheese
1.5 dl full cream, whipped until stiff
Decoration
150 g dark chocolate, finely chopped
40 g icing sugar
90 g butter, soft
0.5 dl full cream, whipped until stiff
a little icing sugar
View these products
And that's how it's done
And that's how it's done
Sponge
Beat the sugar, egg yolks, water and orange zest in a bowl using the whisk on a hand mixer for approx. 5 mins. until the mixture becomes lighter in colour. Beat the egg whites with the salt until stiff. Combine the flour, cocoa powder and baking powder, sieve into the mixture in layers along with the egg whites, carefully fold in using a rubber spatula. Spread the sponge mixture into a rectangle (approx. 5 mm thick) on a baking tray lined with baking paper.
To bake
Approx. 8 mins. in the centre of an oven preheated to 200°C. Remove the sponge, tip the cake and paper out onto a fresh sheet of baking paper, wipe the upper layer of paper with a damp towel and peel away carefully. Cover the sponge immediately with the upturned tray, leave to cool.
Filling
Combine the cream cheese with the sugar and reserved orange zest. Carefully fold in the whipped cream. Spread the cream cheese mixture on top of the sponge, leaving a border of approx. 2 cm all the way around, roll up tightly from the long end.
Decoration
Place the chocolate in a thin-sided bowl and suspend over a gently simmering bain-marie, ensuring that the bowl does not touch the water. Melt the chocolate and stir until smooth, allow to cool slightly. Beat the butter for approx. 2 mins. using the whisk on a hand mixer. Stir in the icing sugar and chocolate, fold in the whipped cream, cover and chill for approx. 30 mins. Spread the chocolate mixture all over the roulade. Score the surface with a fork to create a bark effect. Cut off one end of the roulade and press it into the side of the cake as a branch. Cover and refrigerate for approx. 1 hr. Dust with icing sugar.