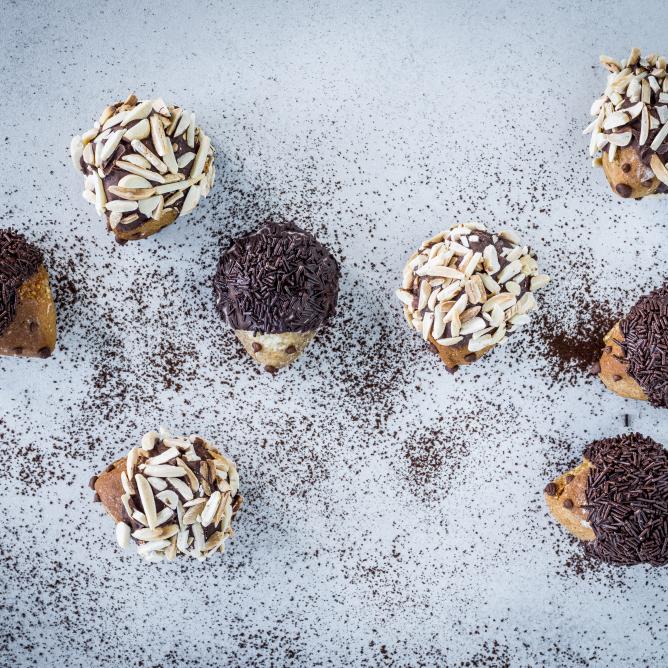 Nutrition facts per serving:
Energy in kcal

about 150

Fat

about 5g

Carbohydrates

about 22g

Protein

about 4g
This is needed
This is needed
for 30 pieces
Dough
250 g honey
0.75 dl milk
75 g sugar
1 fresh egg
500 g brown flour
0.5 tsp baking powder
1 parcel bourbon vanilla sugar
1 tbsp gingerbread spice
Almond mixture
2 tbsp sugar
120 g shelled ground almonds
4.5 tbsp honey
To decorate
100 g dark chocolate, coarsely chopped
50 g almond slivers
30 g chocolate sprinkles, coarsely chopped
View these products
And that's how it's done
And that's how it's done
Dough
Heat honey, milk and sugar in a pan while stirring until the sugar has dissolved, cool. Stir in the egg. Mix the flour and all ingredients up to and including the gingerbread spice, add to the honey mixture, knead to form a smooth dough and leave to rest for approx. 30 mins.
Almond mixture
Mix all the ingredients together.
To shape
Halve the dough, roll out to approx. 1 cm thick between two sheets of baking paper, cut into strips measuring approx. 7 cm. With wet hands, shape the almond mixture into rolls (approx. 1.5 cm in diameter. Place the almond rolls in the middle of the dough strips, roll lengthwise, cut into pieces approx.. 2 cm wide, shape into balls with your hands and use two fingers to press them into a drop shape, then place on a baking tray lined with baking paper.
To bake
Approx. 25 mins. in the centre of an oven preheated to 180°C. Remove from the oven, coat with cream immediately, leave to cool in a well-sealed biscuit tin.
To decorate
Place the chocolate in a thin-sided bowl and suspend over a gently simmering bain-marie, ensuring that the bowl does not touch the water. Melt the chocolate. Dip the hedgehog bodies into the chocolate, sprinkle with almond slivers or chocolate shavings, draw eyes and a nose with chocolate.