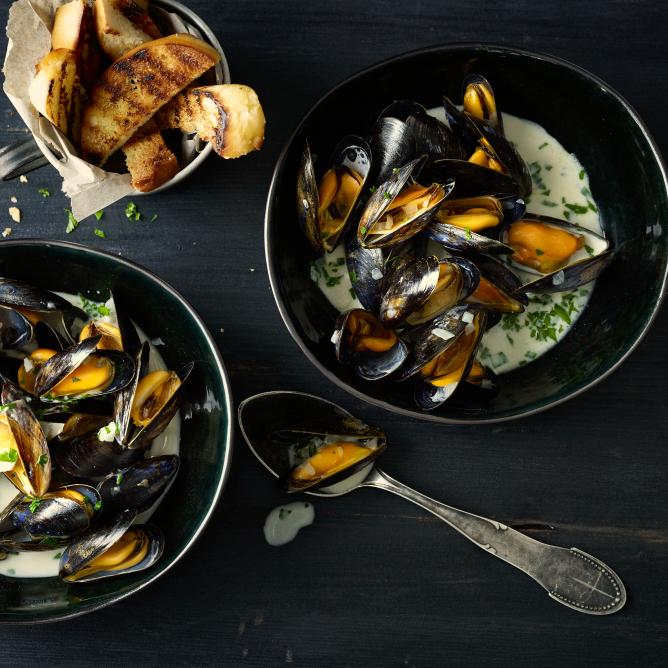 Nutrition facts per serving:
Energy in kcal

about 366

Fat

about 27g

Carbohydrates

about 10g

Protein

about 16g
This is needed
This is needed
for 4 people
3 dl white wine
3 onions, finely chopped
2 dl water
1 tbsp olive oil
2 kg mussels (moules)
a little pepper
0.5 tsp salt
2 garlic clove, thinly sliced
2 dl cream
1 bunch flat-leaf parsley, roughly chopped
50 g blue cheese (e.g. Roquefort), cut into cubes
View these products
And that's how it's done
And that's how it's done
Brush the mussels well under cold running water, remove the beards if necessary, discard any mussels that are damaged or already open as they are inedible. Preheat the oven to 60°C, warm soup plates. Heat the oil in a large pan. Sauté the onions and garlic. Pour in the wine and water, season the stock, bring to the boil, add the mussels, cover and simmer for approx. 5 mins. until they open. Discard any mussels that have not opened, as these are inedible. Remove the mussels with a slotted spoon and divide into the warmed soup plates. Add the cream, Roquefort and parsley to the stock, stir well. Pour the sauce over the mussels, serve immediately.