For a short time only!
When you spend CHF 200 or more, you'll receive a CHF 20 voucher for your next purchase! (excludes Vinolog deliveries)
Show more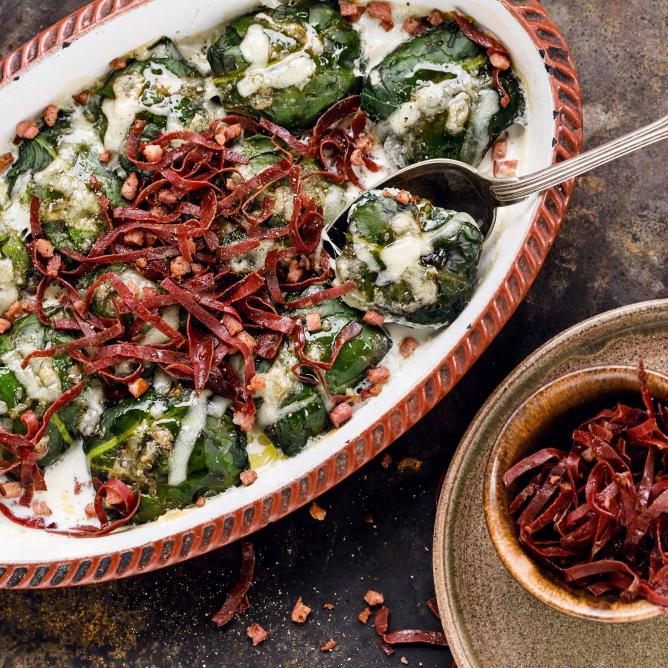 Nutrition facts per serving:
Energy in kcal

about 860

Fat

about 45g

Carbohydrates

about 61g

Protein

about 50g
This is needed
This is needed
for 4 people
Dough
3 fresh egg
1 dl milk
300 g white flour
0.5 dl water
0.25 tsp salt
Filling
1 onions, finely chopped
0.5 bunch parsley, finely chopped
0.5 bunch chives, finely chopped
0.5 bunch peppermint, finely chopped
100 g diced bacon
1 Salsiz sausage (e.g. Pro Montagna Grisoni), peeled, diced
Swiss chard leaves
20 Swiss chard leaves leaves
g salted water, boiling
Capuns
2 dl milk
1 dl meat bouillon
100 g Alpine cheese (e.g. Pro Montagna), coarsely grated
Bacon bits
60 g diced bacon
40 g Bündnerfleisch (Graubünden air-dried meat), thinly sliced
Tools
One greased ovenproof dish (holding approx. 2 ½ l).
View these products
And that's how it's done
And that's how it's done
Dough
Mix the flour and all the ingredients in a bowl, cover and allow to rise for approx. 30 mins.
Filling
Add onion to remaining ingredients and mix into the dough.
Swiss chard leaves
Blanch the leaves in portions for approx. 1 mins., remove then refresh in ice-cold water. Drain and place on a cloth, pat dry. Place 1-2 tbsp of filling on each leaf, fold the sides of the leaf inwards, roll up. Transfer to the prepared dishes.
Capuns
Bring the milk and stock to the boil. Pour over the capuns while hot. Scatter the cheese over the top. Bake for approx. 25 mins. in the centre of an oven preheated to 200°C.
Bacon bits
Fry bacon and air-dried meat in a frying pan without oil until crisp, sprinkle over the capuns.