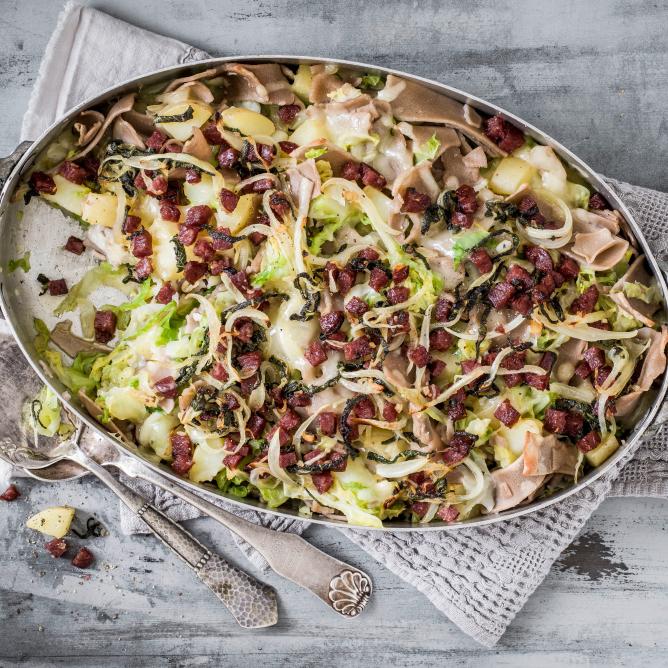 Nutrition facts per serving:
Energy in kcal

about 842

Fat

about 37g

Carbohydrates

about 80g

Protein

about 43g
This is needed
This is needed
for 4 people
Pizzoccheri
300 g buckwheat flour
100 g white flour
0.5 tsp salt
2 dl water
Vegetables
250 g potatoes, diced
salted water
500 g savoy cabbage, sliced
300 g Graubünden mountain cheese, grated
Topping
1 Salsiz sausage (approx. 100 g), diced
1 tbsp butter
1 onions, thinly sliced
1 garlic clove, finely chopped
6 sage leaves, thinly sliced
Tools
One ovenproof dish (approx. 2 l), greased
View these products
And that's how it's done
And that's how it's done
Pizzoccheri
Mix the flour and salt in a bowl. Pour in the water, mix with a risotto spoon until the dough holds together. On a lightly floured surface, knead the dough for approx. 10 mins. until the dough is elastic, cover and leave to rest at room temperature for approx. 30 mins. Quarter the dough. On a lightly floured surface, roll each piece of dough into a rectangle approx. 2 mm thick, cut into strips (approx. 1 x 6 cm), leave to dry slightly.
Vegetables
Cook the potatoes in salted water for approx. 5 mins. Add the pizzoccheri, simmer for approx. 2 mins., add the vegetables, simmer for a further 2 mins. Drain the potato and pizzoccheri mixture, layer it in the prepared dish along with the cheese.
Topping
Heat the butter in a frying pan. Fry the sausage, onion, garlic and sage for approx. 10 mins. until light brown, spread on top of the pizzoccheri.
To gratinate
Cook for approx. 5 mins. in the upper half of an oven preheated to 240°C.