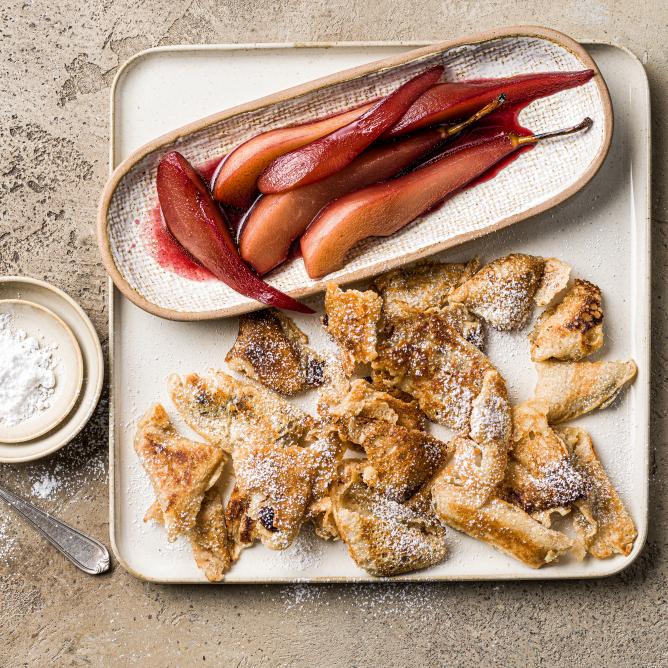 Aquafaba shredded pancake
Nutrition facts per serving:
Energy in kcal

about 519

Fat

about 18g

Carbohydrates

about 79g

Protein

about 7g
This is needed
This is needed
for 4 people
Pears
1 tbsp sunflower oil
4 pears, peeled, in carvings
4 tbsp elderberry jelly
Pancake batter
200 g white flour
2 tbsp sugar
1 tsp baking powder
1 parcel vanilla sugar (approx. 8 g)
3 dl oat drink or other vegan milk
0.5 dl sunflower oil
0.5 dl sparkling mineral water
Shredded pancakes
sunflower oil for frying
3 tbsp sultanas
icing sugar, to dust
View these products
And that's how it's done
And that's how it's done
Pears
Heat the oil in a pan. Add the pears, cook briefly. Add the jelly, cover and simmer for approx. 15 mins., allow to cool slightly.
Aquafaba meringue
Using the whisk on a mixer, beat the aquafaba for approx. 10 mins. until stiff.
Pancake batter
Mix the flour, sugar, vanilla sugar and baking powder in a bowl. Pour in the oat milk, oil and water, whisk to form a smooth batter. Place the aquafaba meringue on top of the batter, carefully fold in using a rubber spatula.
Shredded pancakes
Preheat the oven to 60°C, warm the platter and plates. Heat a dash of oil in a non-stick frying pan. Place ⅓ of the pancake mixture in the pan, sprinkle with ⅓ of the sultanas. Reduce the heat, cook for approx. 5 mins. until the underside separates from the pan, then turn the pancake and cook for a further 5 mins. Tear into pieces using 2 spatulas, finish cooking the shredded pancake for approx. 5 mins., keep warm. Follow the same procedure with the remainder of the batter. Dust the shredded pancake with icing sugar, serve with the pears.