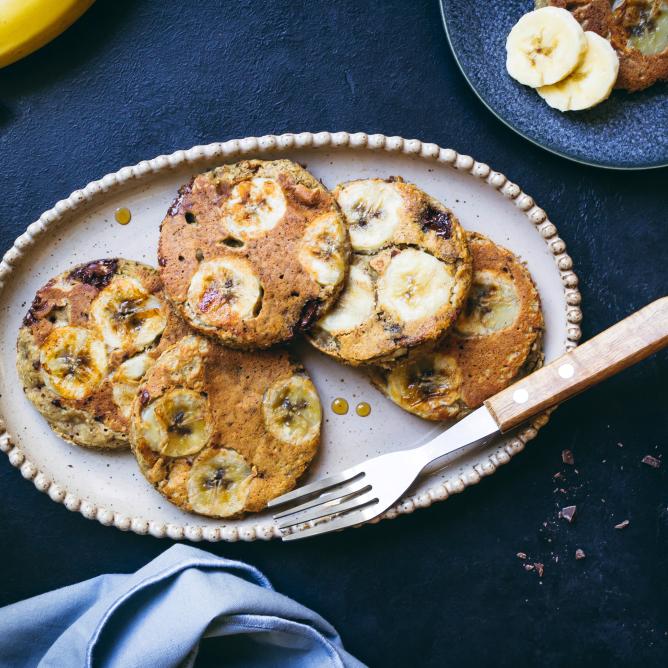 Banana bread pancakes with chocolate chunks
Nutrition facts per serving:
Energy in kcal

about 189

Fat

about 9g

Carbohydrates

about 21g

Protein

about 5g
This is needed
This is needed
for 10 pieces
Batter
1 fresh eggs
2 bananas, cut into pieces
2 dl almond drink
2 tbsp maple syrup
1 tsp vanilla paste
1 tsp lemon juice
80 g gluten-free wholegrain rolled oats
0.5 tsp cinnamon
1 pinch salt
0.5 tsp baking powder
70 g ground almonds
50 g rice flour
60 g dark chocolate, coarsely chopped
To cook the pancakes
coconut oil for baking
1 bananas, in slices
View these products
And that's how it's done
And that's how it's done
Batter
Puree the bananas with the egg in a bowl. Add the almond milk, maple syrup, vanilla paste and lemon juice, mix together. Mix the rolled oats with all the other ingredients up to and including the chocolate, mix in.
To cook the pancakes
Heat the coconut oil in a non-stick frying pan. Reduce the heat. Add as much batter as it takes to make pancakes of approx. 10 cm in diameter, place approx. 3 slices of banana on top of each pancake. Once the undersides are cooked they will no longer stick to the pan. Toss the pancakes, finish cooking and then keep warm. Repeat these steps with the remainder of the batter.