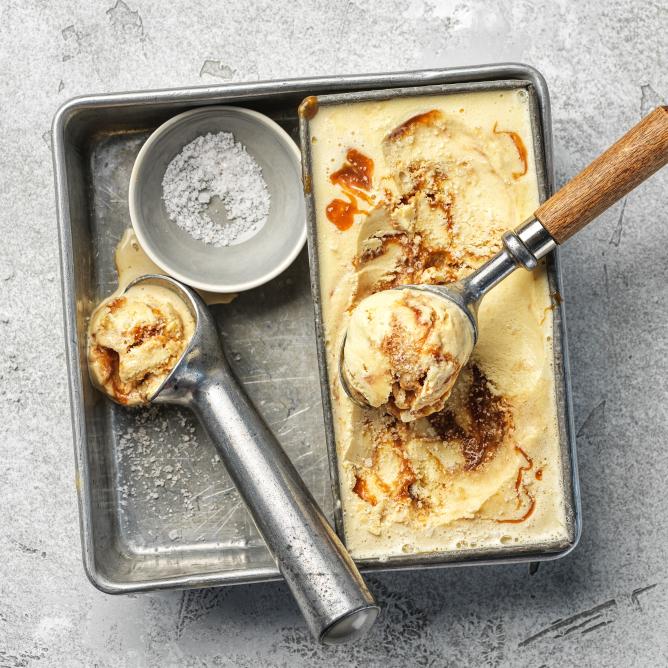 Caramel and fleur de sel ice cream
Nutrition facts per serving:
Energy in kcal

about 456

Fat

about 32g

Carbohydrates

about 36g

Protein

about 5g
This is needed
This is needed
for 6 people
Ice cream mixture
3 fresh egg yolk
3 dl milk
90 g sugar
3 dl full cream
Salted caramel
30 g butter
100 g sugar
1 tsp sea salt
1 dl full cream
View these products
And that's how it's done
And that's how it's done
Ice cream mixture
Heat the milk a little in a pan. Remove the pan from the heat. Whisk the egg yolks and sugar in a bowl. Pour half of the milk into the egg yolks, whisk well. Pour the mixture back into the pan and simmer over a medium heat, stirring constantly until the mixture thickens and turns creamy. Pour the mixture through a sieve into a stainless steel bowl. Pour in the cream, mix well. Cover and chill the ice cream mixture for 8 hrs. or overnight.
To freeze
Stir the ice cream mixture, freeze for approx. 4 hrs., puree.
Salted caramel
Melt the sugar in a wide pan without stirring. Reduce the heat and simmer, swirling the pan occasionally until a light brown caramel has formed. Remove the pan from the heat, add the butter, melt, then mix. Pour in the cream, simmer until the caramel has dissolved. Leave the caramel to cool, stir in the fleur de sel. Carefully fold the caramel into the ice cream, cover and freeze for approx. 3 hrs.
To serve
Shape the ice cream into balls. Sprinkle with a little fleur de sel.