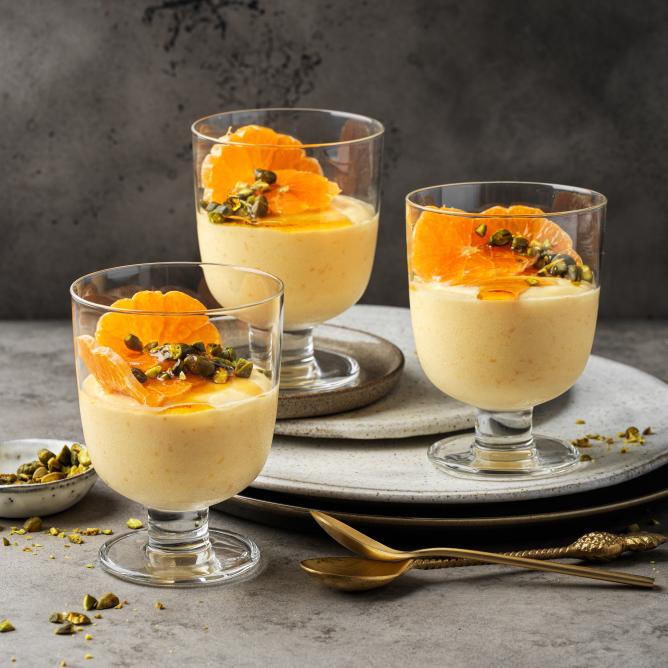 Nutrition facts per serving:
Energy in kcal

about 283

Fat

about 18g

Carbohydrates

about 25g

Protein

about 5g
This is needed
This is needed
for 4 people
Clementine cream
2 tbsp birnel (pear syrup)
1 fresh egg
1 fresh egg yolk
4 clementines, rinsed with hot water, dabbed dry, grated zest and juice
2 tbsp Maizena cornflour
Mousse
1 fresh egg whites
1 pinch salt
1.5 dl cream, beaten until stiff
Topping
1 clementines peeled, in slices
2 tbsp unsalted pistachios, roasted, coarsely chopped
1 tbsp birnel (pear syrup)
Tools
4 glasses, each approx. 200 ml
View these products
And that's how it's done
And that's how it's done
Clementine cream
In a pan, whisk the clementine zest and juice (approx. 200 ml) with all the other ingredients up to and including the cornflour. Bring to the boil over a medium heat, whisking constantly. As soon as the mixture thickens, remove the pan from the heat and continue to whisk for approx. 2 mins. Pour the cream through a sieve into a bowl. Place a sheet of cling film directly over the top and leave to cool completely, chill for approx. 1 hr.
Mousse
Stir the clementine cream until smooth. Beat the egg white with the salt until stiff, carefully fold in with the whipped cream. Divide the mousse between glasses, chill for approx. 1 hr.
Topping
Top the mousse with the clementine segments and pistachios, drizzle with the pear syrup.