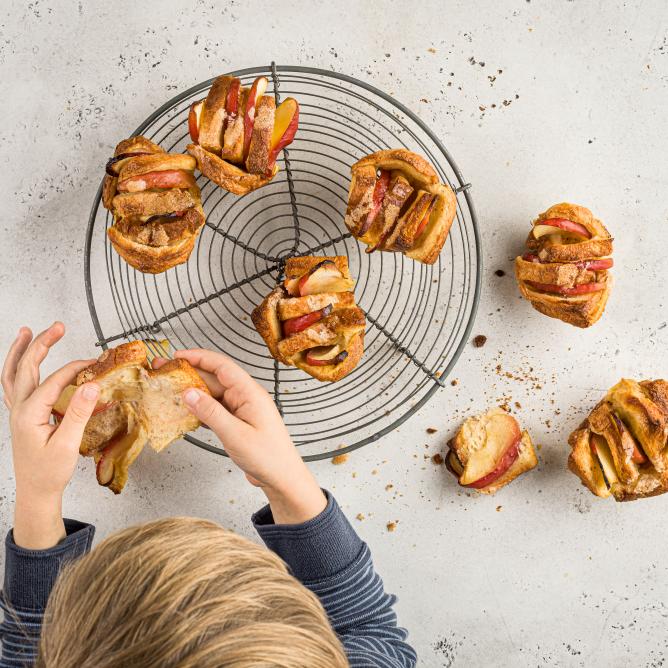 Nutrition facts per serving:
Energy in kcal

about 169

Fat

about 7g

Carbohydrates

about 20g

Protein

about 5g
This is needed
This is needed
for 8 pieces
To soak the toast
2 egg
2 dl milk
0.25 tsp cinnamon
1 pinch salt
1 tbsp sugar
10 slices butter toast
1 apple
Muffins
0.5 tbsp butter
1 tbsp sugar
a little butter
Tools
Brush , Knife, Measuring cup, Muffin tin, Shallow baking dish (approx. 2 l), Oven mitts, Tablespoon, Teaspoon, Whisk, Cutting board
View these products
And that's how it's done
And that's how it's done
To soak the toast
Mix the eggs, milk, sugar, cinnamon and salt in a shallow dish.
Cut the slices of toast into quarters, place them in the egg and milk mixture, allow to soak for approx. 5 mins. Turn the toast over and leave to soak for a further 5 mins. Cut the apple into thin slices.
Muffins
Rub the butter and sugar by hand to form a crumbly mixture. Grease 8 holes in the muffin tin. Place 5 slices of toast and 2-3 apple slices in each hole, top with butter.
To bake
Approx. 30 mins. in the lower half of an oven preheated to 200°C.