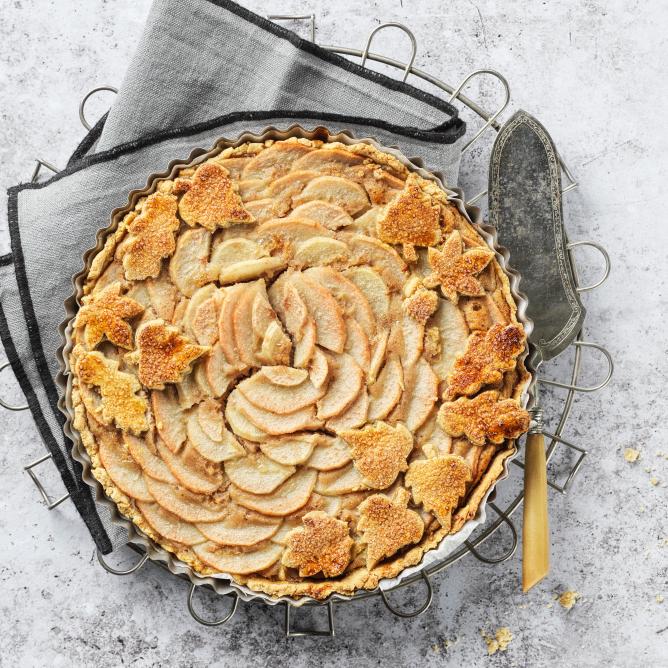 Gluten-free pear and chestnut tart
Nutrition facts per serving:
Energy in kcal

about 249

Fat

about 12g

Carbohydrates

about 30g

Protein

about 3g
This is needed
This is needed
for 12 pieces
Pastry dough
100 g wholemeal rice flour
100 g gluten-free wholegrain rolled oats
0.5 tbsp ground psyllium
0.5 tbsp sugar
75 g butter, cut into pieces, cold
0.25 tsp salt
1 egg
Filling
75 g butter, soft
75 g sugar
1 pinch salt
1 egg
1 egg yolk
220 g frozen chestnut puree, defrosted, in pieces
2 pears, peeled, halved, cut into slices approx. 5 mm thick
0.5 tbsp milk
1 tbsp sugar
Tools
One tart tin (approx. 24 cm in diameter)
View these products
And that's how it's done
And that's how it's done
Pastry dough
In a bowl, mix the flour with all the other ingredients up to and including the salt. Add the butter and rub together using your hands to form an even, crumbly mixture. Add the egg, mix quickly to form a soft dough – do not knead. Flatten the dough.
Roll out the dough
Press the dough together firmly again, set aside a little of the dough. Roll out the remainder of the dough into a circle (approx. 28 cm in diameter) between two sheets of baking paper, remove the upper sheet, place the dough and baking paper in the tart tin. Roll out the reserved dough thinly, cut out using cutters. Prick the pastry base firmly with a fork.
Filling
Place the butter in a bowl, whisk in the sugar and salt. Add the egg and continue to beat until the mixture becomes lighter in colour. Stir in the chestnut puree, spread over the pastry base. Arrange the pear slices on top in a rose formation. Decorate the edges of the pastry with the pastry cut-outs. Whisk the egg yolk and milk, glaze the pastry pieces with the egg wash, sprinkle sugar over the tart.
To bake
Approx. 45 mins. in the lower half of an oven preheated to 200°C. Remove from the oven, allow to cool slightly in the tin for approx. 10 mins., remove the tart from the tin and leave to cool completely on a rack.