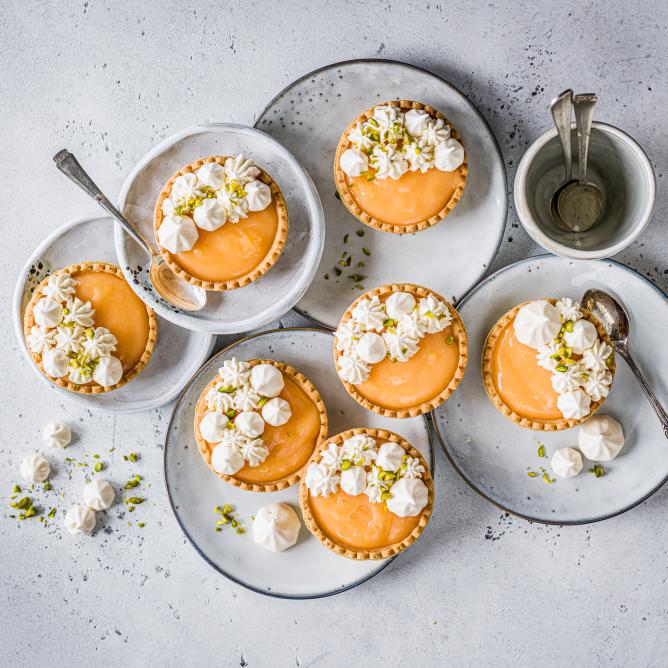 Nutrition facts per serving:
Energy in kcal

about 217

Fat

about 12g

Carbohydrates

about 25g

Protein

about 3g
This is needed
This is needed
for 12 pieces
Grapefruit curd
2 pink grapefruit, rinsed with hot water, dabbed dry, use a little grated zest and all of the juice (approx. 200 ml)
1 pinch salt
2 tbsp Maizena cornflour
120 g sugar
60 g butter, cut into pieces
2 fresh egg yolk
Mini meringues
2 egg white
2 pinches salt
100 g finest sugar
Tartlets
1 dl full cream
0.25 tsp cinnamon
150 g cream quark
12 shortcrust pastry tarts (approx. 175 g)
1 tbsp unsalted, chopped pistachios
View these products
And that's how it's done
And that's how it's done
Grapefruit curd
Whisk together the grapefruit zest, grapefruit juice, sugar, cornflour, salt and egg yolks in a pan. Bring to the boil over a medium heat, whisking constantly. As soon as the mixture thickens, remove the pan from the heat, add the butter and continue whisking for approx. 2 mins. Pass the curd through a sieve and into a bowl, leave to cool, then cover and chill for approx. 30 mins.
Mini meringues
Beat the egg whites with the salt until stiff. Add half the sugar and continue beating until the egg whites become very stiff and glossy. Add the remainder of the sugar and beat briefly. Transfer the mixture to a piping bag with a serrated nozzle (approx. 9 mm in diameter), pipe little blobs onto a baking tray lined with baking paper.
To bake/dry
Slide the tray of mini meringues into the lower half of an oven preheated to 120°C, reduce the heat to 100 °C and bake for approx. 30 mins. Then turn off the oven and leave the meringues to cool with the oven door open.
Tartlets
Whip the cream with the cinnamon until stiff, transfer to a piping bag with a serrated nozzle (approx. 9 mm in diameter). Spread the quark over the base of the tartlets, top with the curd and smooth down. Add the meringues, pipe the cream on top. Sprinkle with the pistachios.