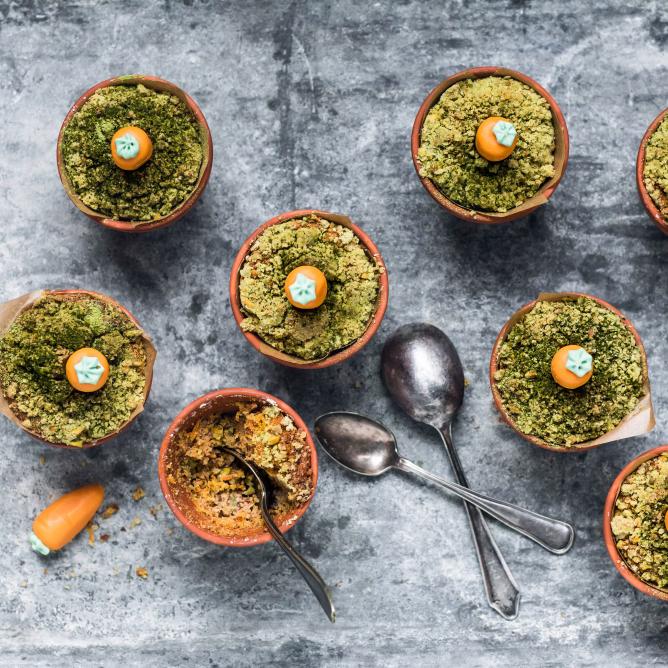 Nutrition facts per serving:
Energy in kcal

about 390

Fat

about 23g

Carbohydrates

about 32g

Protein

about 10g
This is needed
This is needed
for 8 people
Carrot cupcakes
3 egg yolks
1 pinch salt
1 organic lemon, use half of the grated zest and half of the juice
80 g sugar
250 g carrots, finely grated
1 pinch cinnamon
150 g ground almonds
50 g white flour
50 g pecan nuts, coarsely chopped
0.25 tsp baking powder
3 egg whites
Crumble
100 g white flour
50 g butter, melted, left to cool
1 tsp Kitchen matcha
2 tbsp chopped pistachios
1.5 tbsp sugar
Tools
8 mini silicone plant pots (each approx. 100 ml), fully lined with baking paper
View these products
And that's how it's done
And that's how it's done
Carrot cupcakes
Beat the egg yolk with the sugar and salt until light and creamy. Stir in the lemon zest and juice, carrots, cinnamon, almonds and pecan nuts. Combine the flour and baking powder, add to the mixture. Beat the egg whites until stiff, carefully fold into the mixture. Divide the cake mixture between the prepared pots.
Crumble
Mix the butter, flour, pistachios, sugar and matcha with a fork until the mixture turns crumbly, spread the crumble on top of the cakes.
To bake
Approx. 30 mins. in the centre of an oven preheated to 180°C. Remove from the oven, leave to cool on a cooling rack. Decorate with marzipan carrots.