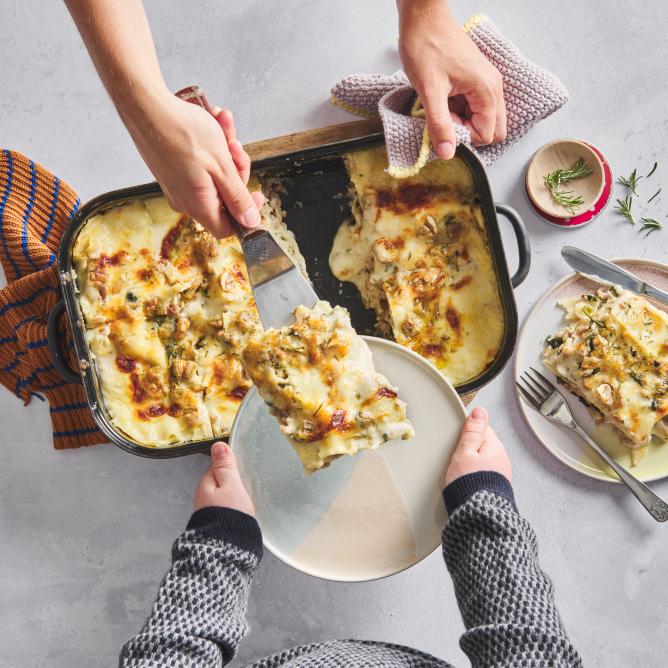 Nutrition facts per serving:
Energy in kcal

about 713

Fat

about 33g

Carbohydrates

about 60g

Protein

about 41g
This is needed
This is needed
for 6 people
Chicken
1 onions
2 garlic clove
250 g frozen peeled chestnuts, defrosted
2 sprigs rosemary
oil for frying
500 g mince (chicken)
300 g frozen leaf spinach, defrosted, drained
2 dl chicken bouillon
0.5 tsp salt
a little pepper
Cheese sauce
50 g butter
80 g white flour
7 dl milk
0.25 tsp salt
200 g grated Gruyère
7 dl chicken bouillon
Lasagne
a little butter
250 g white lasagne sheets
2 sprigs rosemary
50 g grated Gruyère
Tools
Apron, Bowl, Frying pan, Garlic press, Gratin dish, Measuring cup, Oven mitts, Pan, Paring knife, Spatula, Tablespoon, Timer, Whisk, Cutting board, Kitchen scales, Spoon
View these products
And that's how it's done
And that's how it's done
Chicken
Coarsely chop the chestnuts, set aside 50 g. Peel the onion, finely chop, peel and mince the garlic, remove the rosemary needles, finely chop. Heat the oil in a non-stick frying pan. Brown the mince for approx. 5 mins. per batch, remove from the pan, season with salt. Reduce the heat, add the onion, garlic and rosemary, sauté for approx. 2 mins. Add the spinach and chestnuts, cook for approx. 2 mins. Return the mince to the pan, pour in the stock, reduce almost completely, season.
Cheese sauce
Heat the butter in a pan. Add the flour, cook over a medium heat while stirring with a whisk; the flour must not take on any colour. Pour in the milk and stock all at once, bring to the boil while stirring, reduce the heat and simmer for approx. 10 mins., stirring occasionally. Mix in the cheese, season with salt.
Lasagne
Grease the gratin dish (approx. 3 l). Layer the lasagne sheets, chicken filling and cheese sauce in the dish, finish with the cheese sauce. Top with the cheese and reserved chestnuts. Remove the rosemary needles, finely chop, sprinkle on top.
To bake
Approx. 35 mins. in the centre of an oven preheated to 200°C. Remove, leave the lasagne to stand for approx. 5 mins.