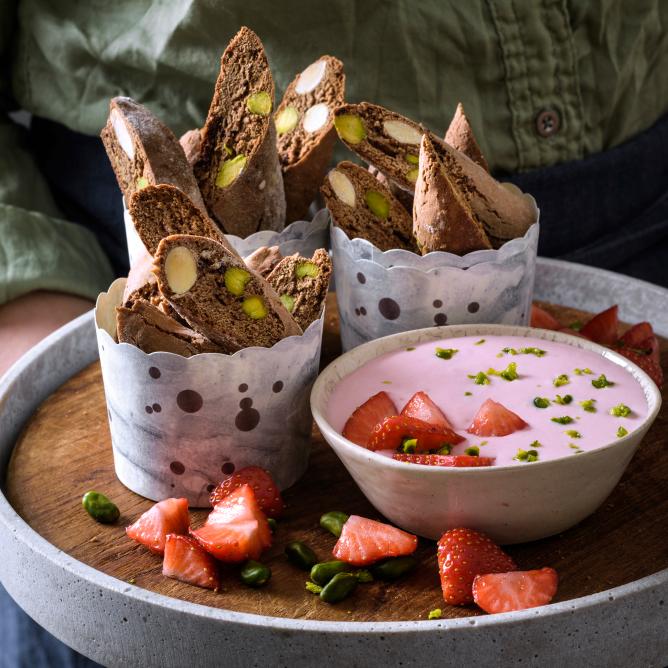 Chocolate cantucci with strawberry cream
Nutrition facts per serving:
Energy in kcal

about 415

Fat

about 0g

Carbohydrates

about 0g

Protein

about 0g
This is needed
This is needed
for 4 people
Cantucci
2 egg
1 parcel vanilla sugar
200 g sugar
2 pinches salt
100 g dark chocolate
water, boiling
300 g white flour
100 g almond
50 g unsalted, shelled pistachios
0.5 tsp baking powder
Crème
4 tbsp icing sugar
250 g strawberries
2 tbsp lemon juice
1 dl cream, beaten until stiff
150 g cream quark
View these products
And that's how it's done
And that's how it's done
Cantucci
Beat together the eggs and all the ingredients up to and including salt using the whisk on a hand mixer for approx. 3 mins. until the mixture turns a paler colour. Break half the chocolate into pieces and place in a small bowl. Pour over the water and leave to stand for approx. 2 mins. Carefully drain off most of the water until approx. 1 tablespoon is left. Briefly stir the chocolate into the egg mixture. Finely chop the rest of the chocolate, mix with the flour and remaining ingredients, quickly combine to form a firm dough. To shape, divide the dough into 3 portions, on a surface lightly dusted with flour shape into rolls each approx. 3 cm diameter and transfer to an oven tray lined with baking paper. Bake for approx. 20 mins. in the centre of an oven preheated to 200°C. Turn oven down to 180°C. Remove the rolls, allow to cool a little, cut diagonally into slices approx. 1 1/2 cm thick, transfer to the oven tray. Continue baking the Cantucci for about 10 mins., leave to cool on a cooling rack.
Crème
Slice 3 strawberries and set aside as decoration. Slice the remaining strawberries into pieces and puree with the icing sugar and lemon juice. Stir in the quark. Carefully fold in the whipping cream. Cover the crème and leave to chill for approx. 30 mins. Decorate the crème with the reserved strawberries. Serve with the Cantucci.