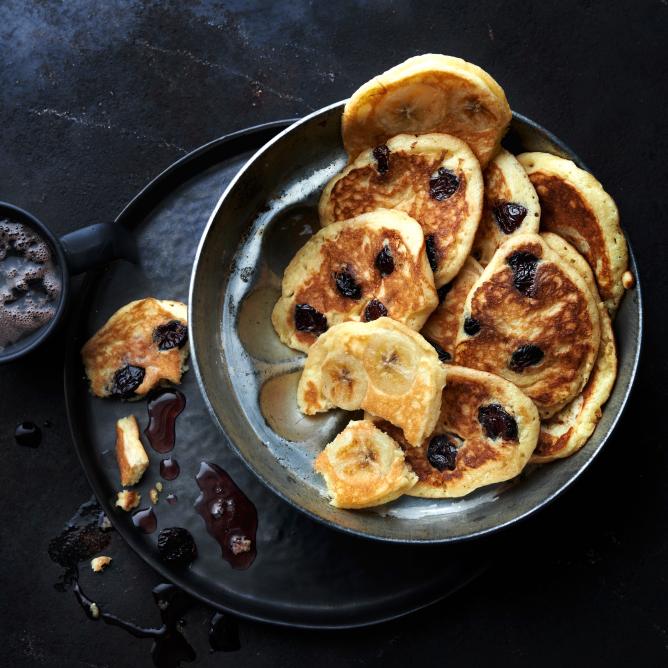 Fruit pancakes with cranberry sauce
Nutrition facts per serving:
Energy in kcal

about 438

Fat

about 21g

Carbohydrates

about 51g

Protein

about 9g
This is needed
This is needed
for 4 portion
Sauce
4 dl cranberry juice
2 tsp liquid honey
2 tsp lemon juice
Pancakes
50 g dried cranberries
120 g white flour
2 pinches salt
1 tbsp lemon juice
2 tsp baking powder
50 g butter, melted, left to cool
2 fresh egg yolk
2 fresh egg whites
2 tbsp sugar
1 pinch salt
1 tsp sodium bicarbonate
180 g Dessert Extrafin
a little butter
1 bananas, cut into slices approx. 5 mm thick
View these products
And that's how it's done
And that's how it's done
Sauce
Bring the cranberry juice, honey and lemon juice to the boil. Reduce to approx. 100 ml, leave to cool.
Pancakes
Mix the cranberries with the lemon juice, cover and leave to steep for approx. 15 mins. Drain the cranberries. In a bowl, mix the flour with all the other ingredients up to and including the sugar. Combine the melted butter, Dessert Extrafin and egg yolks, stir in. Beat the egg whites with the salt until stiff, carefully fold into the mixture using a rubber spatula. Heat the clarified butter in a non-stick frying pan, then reduce the heat. In batches, pour enough batter into the pan so that each pancake is approx. 5 mm thick and approx. 4 cm in diameter. Top each pancake with 3 slices of banana. Once the underside is cooked and separates from the pan, turn the pancake and cook for a further 2 mins. Cover the pancakes and keep warm. Top the remaining 6 pancakes with the drained cranberries instead of banana.
To serve
Serve the pancakes with the cranberry sauce.