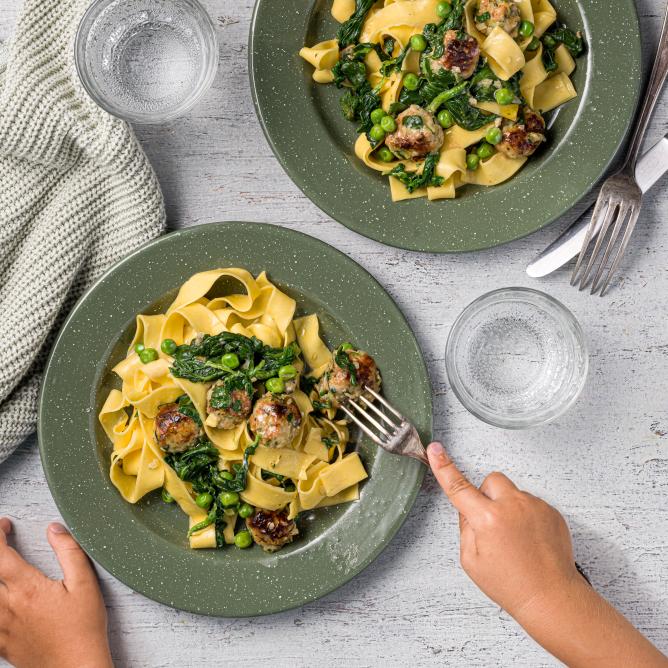 Noodles with chicken mince balls
Nutrition facts per serving:
Energy in kcal

about 774

Fat

about 27g

Carbohydrates

about 87g

Protein

about 41g
This is needed
This is needed
for 4 people
Mince balls
1 courgettes (approx. 250 g)
2 sprigs flat-leaf parsley
300 g mince (chicken)
0.75 tsp salt
6 tbsp breadcrumbs
4 tbsp grated Parmesan
Noodles
400 g wide noodles
salted water, boiling
Sauce
150 g frozen peas, defrosted
1 onions
3 sprigs flat-leaf parsley
salt and pepper to taste
2 tbsp olive oil
300 g frozen leaf spinach, defrosted
2 dl single cream for sauces
Tools
Bowl, Colander, Flat grater, Frying pan, Knife, Measuring cup, Pan, Plate, Sieve, Spatula, Tablespoon, Teaspoon, Cutting board, Kitchen scales
View these products
And that's how it's done
And that's how it's done
Mince balls
Finely grate the courgette, squeeze out thoroughly in a sieve, place in a bowl. Tear off the parsley leaves, chop finely.
Add the chicken mince, breadcrumbs and cheese to the courgette, season with salt, mix. Knead the mixture well by hand until the ingredients form a compact mass. Shape the mixture into 32 balls, place on a plate.
Noodles
Cook the noodles in boiling salted water until just al dente, drain, reserve approx. 100 ml of the cooking water and set aside.
Sauce
Peel and finely chop the onion. Heat the oil in a frying pan. Fry the mince balls in batches for approx. 6 mins. all over. Remove, reduce the heat, sauté the onion for approx. 3 mins., pour in the reserved cooking water, loosen any bits that have stuck to the pan, simmer for approx. 3 mins. Pour in the cream, bring to the boil. Reduce the heat, return the mince balls to the pan along with the spinach and peas, reduce for approx. 5 mins. Add the noodles to the sauce, mix, heat through, season. Tear the parsley leaves over the top.