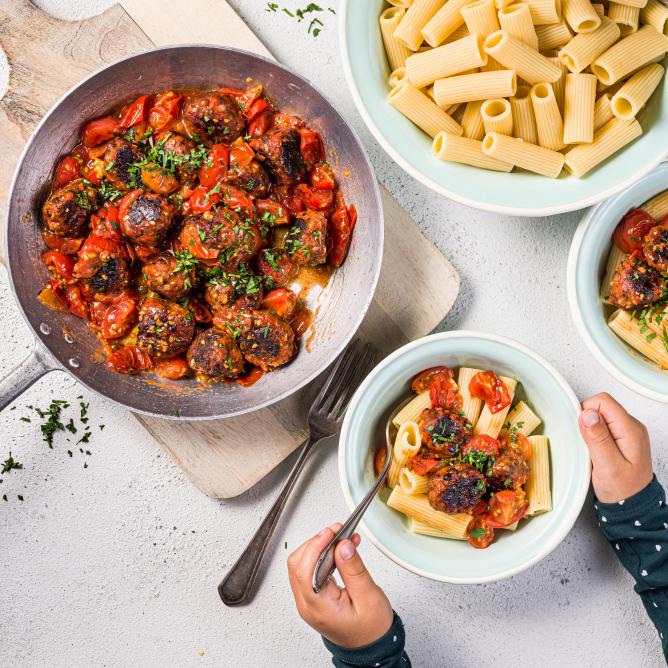 Nutrition facts per serving:
Energy in kcal

about 539

Fat

about 5g

Carbohydrates

about 84g

Protein

about 22g
This is needed
This is needed
for 4 people
Lentil balls
1 onions
2 carrots (approx. 200 g)
1 garlic clove
1 bunch flat-leaf parsley
2 tins cooked lentils (approx. 260 g)
5 tbsp tomato puree
5 tbsp white flour
0.5 tsp salt
oil for frying
a little pepper
500 g cherry tomatoes
0.25 tsp salt
Pasta
350 g pasta (e.g. Rigatoni)
salted water, boiling
Tools
Apron, Bowl, Colander, Cooking spoon, Flat grater, Frying pan, Garlic press, Paring knife, Peeler, Tablespoon, Teaspoon, Timer, Cutting board, Pot, Kitchen scales
View these products
And that's how it's done
And that's how it's done
Lentil balls
Peel and finely chop the onion, place in a bowl. Peel and finely grate the carrots, add to the bowl.
Rinse and then drain the lentils, add to the bowl, press in the garlic clove. Finely chop the parsley, set half aside.
Add the remainder of the parsley, the tomato puree, flour and salt to the lentils, mix, knead well by hand until the ingredients form a compact mass.
Shape the mixture into balls using your hands. Quarter the tomatoes. Heat the oil in a non-stick frying pan. Fry the lentil balls for approx. 6 mins. all over. Add the tomatoes, cook for approx. 6 mins., season.
Pasta
Cook the pasta in boiling salted water until al dente, drain. Plate up the pasta with the lentil balls and tomatoes. Garnish with the reserved parsley.