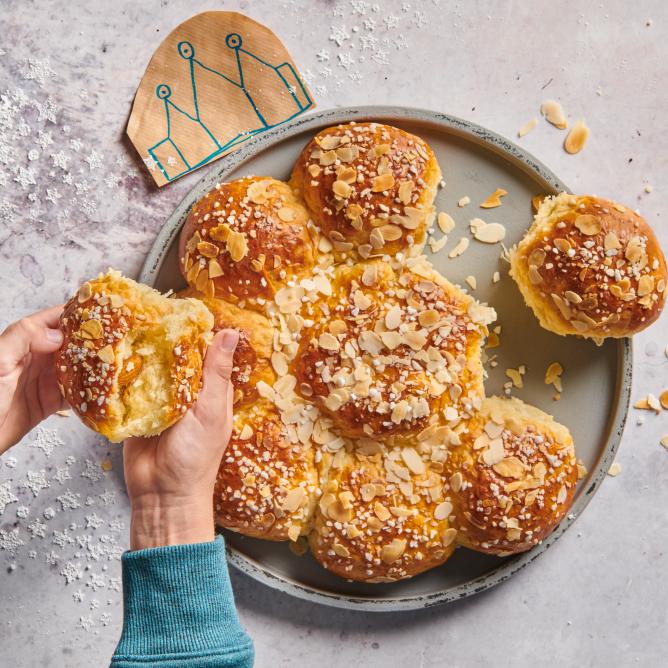 Three Kings' Cake with an almond king
Nutrition facts per serving:
Energy in kcal

about 323

Fat

about 11g

Carbohydrates

about 46g

Protein

about 9g
This is needed
This is needed
for 1 cake
Yeast dough
3 tbsp sugar
1.5 tsp salt
500 g white flour
0.5 cube yeast (approx. 20 g)
3 dl milk
80 g butter, soft
2 tbsp flaked almonds
2 tbsp decorating sugar
Tools
Apron, baking paper, Baking tray, Bowl, Brush , Fork, Knife, Measuring cup, Oven mitts, Tablespoon, Teaspoon, Timer, small bowl, Kitchen scales, Cooling rack
View these products
And that's how it's done
And that's how it's done
Yeast dough
Mix the flour, salt and sugar in a bowl. Crumble the yeast, mix in. Add the butter and milk, knead to form a soft, smooth dough. Cover and leave to rise for approx. 1½ hrs. at room temperature until doubled in size.
To shape
Divide the dough into 8 small portions and 1 large portion. Shape into balls, inserting the almond (king) into one of the small balls. Place the large ball in the centre of the prepared tin, arrange the small balls evenly around it, cover and leave to rise for approx. 30 mins.
To glaze
Beat the egg in a small bowl and use to glaze the cake.
Sprinkle with flaked almonds and sugar crystals.
To bake
Approx. 30 mins. in the lower half of an oven preheated to 180°C. Remove from the oven, allow to cool slightly, slide the cake onto a cooling rack and leave to cool.