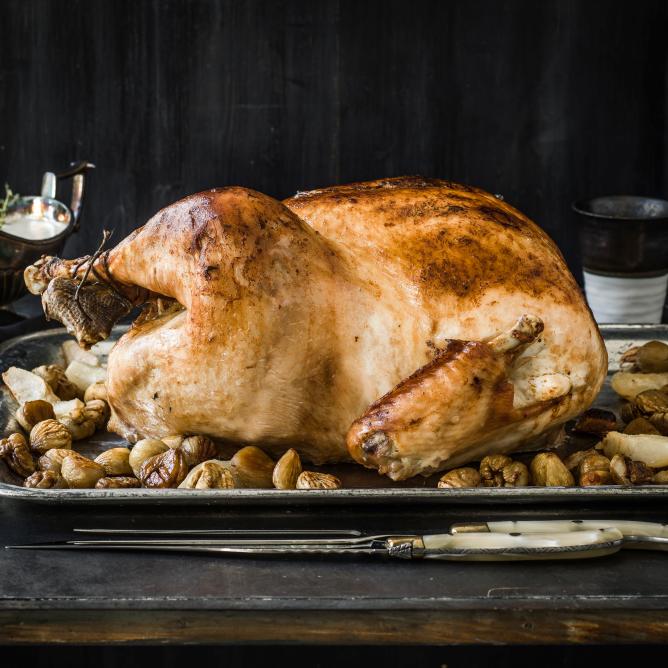 Stuffed turkey with chestnuts
Nutrition facts per serving:
Energy in kcal

about 761

Fat

about 35g

Carbohydrates

about 30g

Protein

about 73g
This is needed
This is needed
for 8 people
Stuffing
1 Vaud sausage (approx. 400 g)
50 g walnuts, coarsely chopped
3 shallot, finely chopped
1 dl vermouth (e.g. Noilly Prat)
3 sprigs thyme, leaves torn off
100 g dried apricots (sweet), finely chopped
0.5 tsp salt and pepper to taste
Turkey
1 turkey (approx. 4.5 kg), ready to cook, ordered in advance from the butcher
1 tbsp salt
a little pepper
30 g knobs of butter
To roast
500 g frozen peeled chestnuts, slightly defrosted
3 pears, sliced
Noilly Prat sauce
0.5 tbsp butter
1 shallot, finely chopped
1 dl vermouth (e.g. Noilly Prat)
2 dl single cream for sauces
a little pepper
2 sprigs thyme
0.25 tsp salt
View these products
And that's how it's done
And that's how it's done
Stuffing
Squeeze the meat out of the skin, mix with the shallots and all the other ingredients up to and including the pepper.
Turkey
Rinse the turkey in cold water, dab dry with kitchen roll. Season inside and out, stuff. Secure the opening with toothpicks. Cross the legs, tie with kitchen twine. Place on a baking tray (breast side up), top with the knobs of butter.
To roast
1 hr. in the lower half of an oven preheated to 200°C. Reduce the heat to 140°C, continue to roast for approx. 3 hrs., add the chestnuts and pears to the tray and cook with the turkey for the final 30 mins. Baste the turkey with the cooking juices from time to time. The turkey is cooked when the juices run clear when pricked.
Noilly Prat sauce
Heat the butter in a pan. Sauté the shallot. Pour in the vermouth and cream, add the thyme, bring to the boil, simmer over a medium heat for approx. 5 mins., season. Remove the toothpicks and twine from the turkey, carve the turkey. Plate up the meat and stuffing, serve with the sauce, chestnuts and pears.