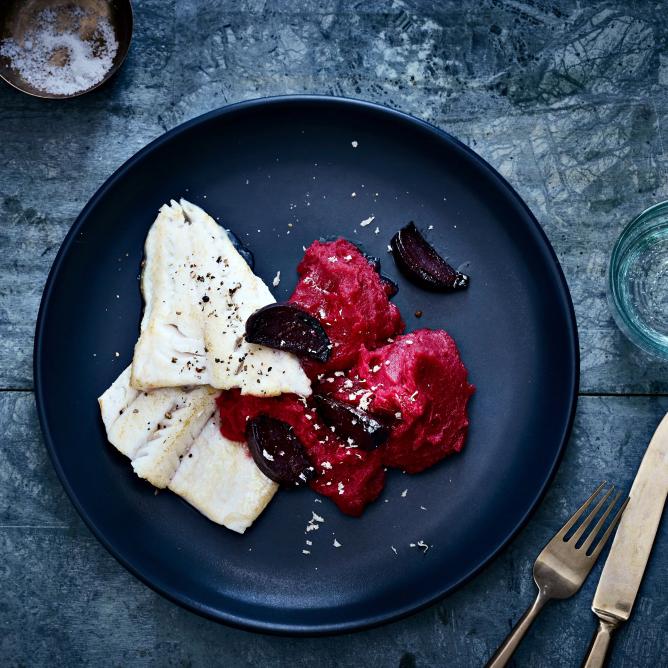 Beetroot & potato mash with pike perch
Nutrition facts per serving:
Energy in kcal

about 456

Fat

about 20g

Carbohydrates

about 34g

Protein

about 33g
This is needed
This is needed
for 4 people
Beetroot & potato mash
800 g mealy potatoes, cut into pieces
a little pepper
200 g raw beetroots, cut into pieces
0.25 tsp salt
40 g butter, cut into pieces
1 tsp salt
2 tbsp horseradish, grated
Pike perch
1 tbsp olive oil
600 g skinless pike-perch fillets
a little pepper
0.5 tsp salt
1 lemon, use only the juice, set aside 1 tbsp
1 tbsp olive oil
Caramelized beetroot
1 tbsp butter
0.5 tbsp liquid honey
1 beetroots, sliced
1 tbsp water
0.25 tsp salt
a little pepper
View these products
And that's how it's done
And that's how it's done
Beetroot & potato mash
Place a steamer basket into a wide-bottomed pan, fill with water until it is just below the bottom of the basket, add the beetroot, cover and cook over a medium heat for approx. 10 mins. Add the potatoes, season with salt, cover and cook for approx. 30 mins. until soft. Pass the vegetables through a food mill. Gradually add the butter and horseradish, stirring until the mash has the desired consistency and is smooth and light.
Pike perch
Heat the oil in a non-stick frying pan. Fry the pike perch fillets in batches for approx. 4 mins. on each side, season, drizzle with lemon juice and oil.
Caramelized beetroot
Heat the butter and honey in a frying pan, add the beetroot and water, cover and simmer for approx. 30 mins., turning the beetroot occasionally. Add the reserved lemon juice, season.