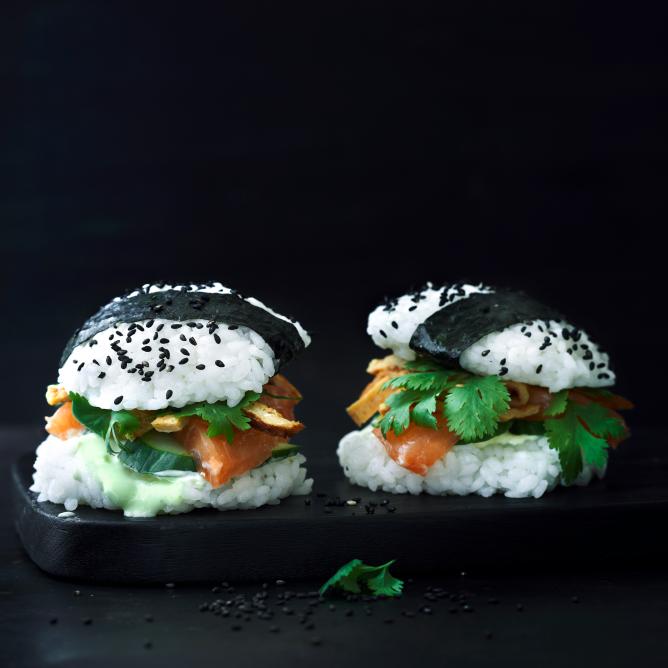 Nutrition facts per serving:
Energy in kcal

about 619

Fat

about 24g

Carbohydrates

about 81g

Protein

about 19g
This is needed
This is needed
for 4 people
Rice
350 g sushi rice
5 dl water
To season the sushi rice
3 tbsp sugar
1 tsp salt
3 tbsp rice vinegar
Omelette
2 egg
1 tbsp soy sauce
1 tsp sugar
Wasabi mayonnaise
1.5 tsp wasabi paste
1 lime, rinsed with hot water, dabbed dry; use grated zest and 1 tsp of juice
60 g mayonnaise
100 g cucumber
180 g salmon fillets (sushi quality)
30 g preserved ginger
0.5 bunch coriander, torn into pieces
View these products
And that's how it's done
And that's how it's done
Rice
Rinse the rice in a sieve under running water until it is clear. Drain well.
Add the rice and water to a pan and leave to absorb for approx. 30 mins. Bring to the boil with the lid off, reduce the heat until the water has evaporated, leaving small indentations on the surface of the rice, cover and leave to absorb over a low heat for approx. 10 mins., do not remove the lid.
To season the sushi rice
Warm the sugar, rice vinegar and salt in a small pan, stirring until the sugar has dissolved. Place the rice in a wide bowl, drizzle with the warm liquid.
Mix carefully with a fork for approx. 3 mins. while fanning. Cover the rice with a damp cloth and leave to stand for approx. 15 mins.
Omelette
Mix the egg, soy sauce and sugar. Heat the oil in a small non-stick frying pan. Pour in the egg mixture, cook over a medium heat, fold over in the middle.
Cut the omelette into strips approx. 1 cm wide.
Wasabi mayonnaise
Combine the mayonnaise, wasabi, lime zest and lime juice.
To assemble the sushi burgers
With damp hands, shape the rice into 8 equal-sized patties.
Cut the salmon into thin slices, cut the cucumber diagonally into slices.
Spread a little of the wasabi mayonnaise over the bottom rice patty. Cover with the cucumber, salmon, omelette and ginger. Tear the coriander and sprinkle on top. Spread the remaining sauce over the top, cover with another rice patty, press down gently.