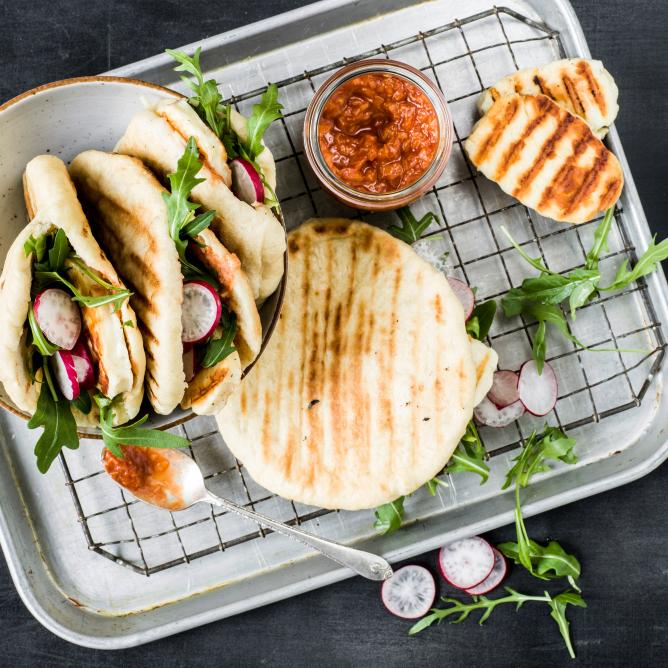 BBQ bread with halloumi and a fruity sauce
Nutrition facts per serving:
Energy in kcal

about 483

Fat

about 19g

Carbohydrates

about 50g

Protein

about 21g
This is needed
This is needed
for 8 piece
1 tsp olive oil
2 tbsp cane sugar
4 tbsp cognac
2 tbsp honey
2 tbsp tomato puree
1 tsp mild paprika
0.5 tsp salt
BBQ bread
250 g spelt flour
250 g white flour
0.25 cube yeast (approx. 10 g)
1.5 tsp salt
3.25 dl water
1 tbsp olive oil
To grill the bread and cheese
To assemble
50 g rocket
1 bunch radish
a little pepper
View these products
And that's how it's done
And that's how it's done
BBQ rhubarb sauce
Thinly slice the rhubarb, finely chop the shallot.
Heat the oil in a pan, sauté the rhubarb, shallot and sugar for approx. 1 min. Add the cognac, reduce for approx. 1 min. Add the tomato puree, honey and paprika, simmer over a low heat for approx. 20 mins., stirring occasionally, season with salt and leave to cool.
BBQ bread
Crumble the yeast in a bowl, mix with the spelt flour, white flour and salt. Add the water and oil, knead to form a soft, smooth dough.
Cover and leave to rise at room temperature for approx. 1½ hrs. until doubled in size.
Divide the dough into 8 portions, shape into balls, gently flatten by hand on a lightly oiled surface.
To grill the bread and cheese
Charcoal/gas/electric grill: Grill over/on a medium heat (approx. 180 °C for approx. 3 mins. on each side. Cut the halloumi into approx. 1 cm slices, place on the grill alongside the bread, grill for approx. 1 min. on each side.
To assemble
Thinly slice the radish. Cut open the BBQ bread, fill with the BBQ rhubarb sauce, halloumi, radish and rocket, season.