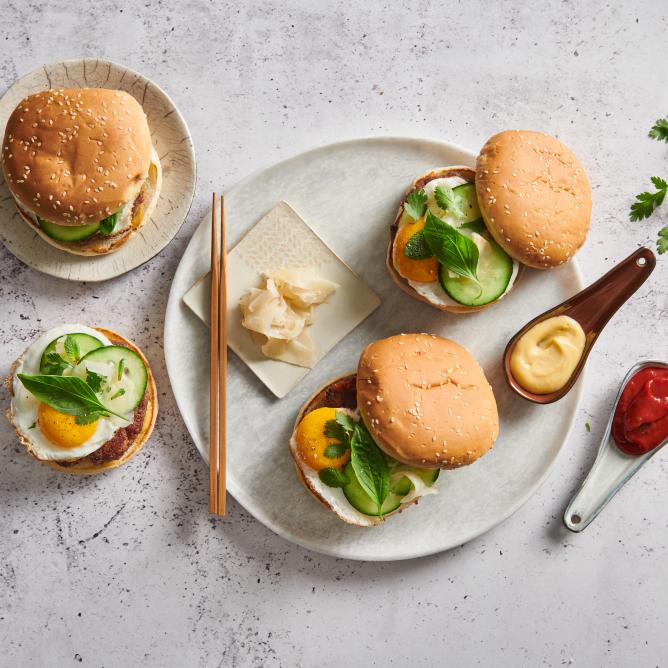 Asian-style burgers with fried egg
Nutrition facts per serving:
Energy in kcal

about 868

Fat

about 53g

Carbohydrates

about 59g

Protein

about 37g
This is needed
This is needed
for 4 people
Burgers
400 g minced meat (beef and pork)
1 spring onion incl. green part, finely chopped
50 g panko breadcrumbs or regular breadcrumbs
2 cm ginger, finely grated
2 garlic clove, finely grated
1 tbsp soy sauce
2 tsp Sriracha-Sauce
0.5 tsp salt
Miso mayonnaise
0.25 dl toasted sesame oil
1 fresh egg yolk
1 tsp mustard
0.75 dl sunflower oil
0.5 tbsp lime juice
0.5 tbsp miso paste
salt to taste
Tomato and Sriracha sauce
2 tbsp tomato puree
2 tbsp apricot jam
1 tbsp water
0.5 tbsp lime juice
1 tsp Sriracha-Sauce
Burgers
4 burger buns, cut in half crosswise
4 fresh egg
2 tbsp sunflower oil
0.25 cucumber, sliced
20 g preserved ginger, drained
1 bunch mixed herbs (e.g. coriander, Thai basil, mint), leaves torn off
View these products
And that's how it's done
And that's how it's done
Burgers
In a bowl, mix the meat with all the other ingredients up to and including the salt. Knead by hand until the ingredients form a compact mass. Divide the mixture into 4 portions and shape into round burgers, flatten a little.
Miso mayonnaise
Place the egg yolk and mustard in a bowl, beat using the whisk on a mixer. Add the oil drop by drop to begin with, then more gradually, stirring constantly to form a thick mayonnaise. Stir in the miso paste and lime juice, season with salt.
Tomato and Sriracha sauce
Combine the tomato puree, jam, water, lime juice and Sriracha sauce.
Burgers
Without adding any oil, toast the cut surfaces of the burger buns in a non-stick frying pan until golden brown. Heat the oil in the same pan. Fry the burgers in batches for approx. 3 mins. on each side. Remove, leave to rest for approx. 5 mins. Crack the eggs one at a time, fry in the same pan for approx. 4 mins. Spread the miso mayonnaise over the bottom half of the burger buns, add the burgers, fried eggs, cucumber, ginger and herbs. Spread the tomato and Sriracha sauce over the top half of the burger buns and place on top.