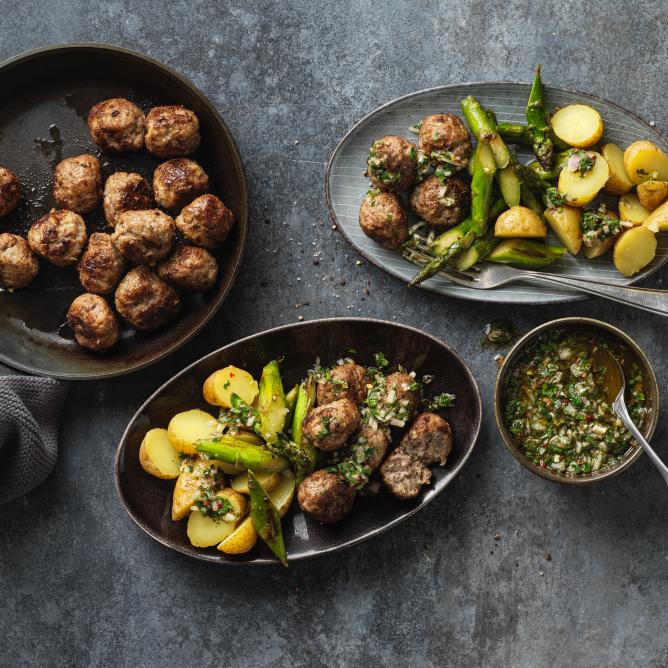 Nutrition facts per serving:
Energy in kcal

about 510

Fat

about 30g

Carbohydrates

about 32g

Protein

about 24g
This is needed
This is needed
for 4 people
Meatballs
1 tbsp olive oil
2 shallot, finely chopped
2 garlic clove, finely chopped
400 g minced meat (beef and pork)
1 tsp dried oregano
2 tbsp breadcrumbs
2 tsp dried thyme
0.75 tsp salt
Potatoes
600 g baby potatoes
salted water, boiling
Chimichurri
4 tbsp white wine vinegar
4 tbsp olive oil
1 bunch flat-leaf parsley, finely chopped
1 shallot, finely chopped
1 garlic clove, squeezed
1 bay leaf, finely crushed
salt to taste
1 tsp chilli flakes
2 tsp dried thyme
To fry
olive oil for frying
500 g green asparagus, diagonally in approx. 4 cm wide pieces
0.5 tsp salt
a little pepper
View these products
And that's how it's done
And that's how it's done
Meatballs
Heat the oil in a non-stick frying pan. Sauté the shallots and garlic for approx. 3 mins., transfer to a bowl, leave to cool. Add the mince, breadcrumbs and herbs, season with salt, mix. Knead the mixture thoroughly until you have a compact mass. With wet hands, shape the mixture into approx. 24 balls.
Potatoes
Cook the potatoes in boiling salted water for approx. 20 mins. until soft, drain and keep warm.
Chimichurri
Combine the vinegar with all the other ingredients up to and including the salt.
To fry
Heat a dash of oil in a non-stick frying pan. Fry the meatballs in batches for approx. 8 mins. all over, remove, keep warm. Stir fry the asparagus in the same frying pan for approx. 5 mins., season. Plate up the meatballs, potatoes and asparagus, drizzle the chimichurri on top.