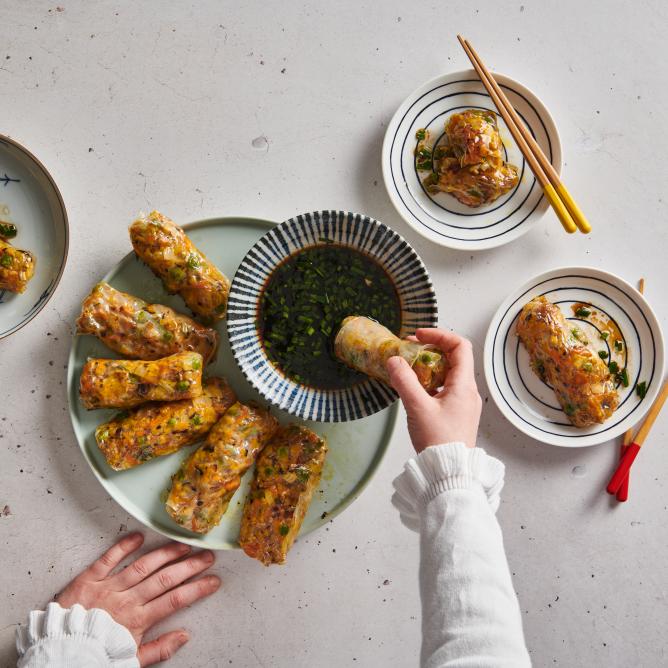 Nutrition facts per serving:
Energy in kcal

about 388

Fat

about 20g

Carbohydrates

about 29g

Protein

about 21g
This is needed
This is needed
for 4 people
Filling
1 garlic clove
200 g Chinese cabbage
150 g shiitake mushrooms
1 tbsp sesame oil
150 g carrots
300 g mince (chicken)
100 g frozen peas
0.5 tbsp ginger
1 tsp salt
Dip
3 tbsp soy sauce
1.5 tbsp balsamic vinegar
1.5 tbsp water
1.5 tbsp sesame oil
0.5 bunch chives
Tools
Apron, baking paper, Bowl, Brush , Frying pan, Garlic press, Knife, Lemon grater, Rectangular tin, Oven mitts, Plate, Rösti grater, Scissors, Spatula, Tablespoon, Teaspoon, Timer, small bowl, Cutting board, Kitchen scales
View these products
And that's how it's done
And that's how it's done
Filling
Press the garlic clove. Finely chop the Chinese cabbage and mushrooms, coarsely grate the carrot. Heat the oil in a non-stick frying pan. Stir fry the garlic and mince for approx. 5 mins. Reduce the heat, add the Chinese cabbage, mushrooms, carrots and peas, cook for approx. 10 mins. Finely grate the ginger, add, season with salt. Place the filling in a bowl, leave to cool.
Rolls
Dip 1 sheet of rice paper in warm water for approx. 30 secs. then transfer to a plate. Place 3 tbsp of filling in the middle of the sheet.
Fold the sides of the rice paper inwards, then roll up tightly from the bottom. Place the summer roll on a baking tray lined with baking paper. Repeat this process with the remaining rice sheets and filling.
Brush the rolls with oil.
To bake
Approx. 15 mins. in the centre of an oven preheated to 220°C. Turn the rolls, bake for a further 15 mins.
Dip
Mix the soy sauce with the water, balsamic and oil. Chop the chives using scissors, add. Serve the summer rolls with the dip.